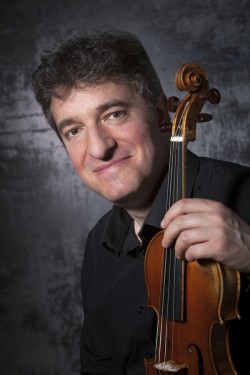 Biography:
Born on Merseyside in 1974, Adrian Chandler is recognised as one of today's leading interpreters of Italian baroque music. Whilst a student at the Royal College of Music, Adrian founded La Serenissima with whom he has performed as Director/Soloist at major festivals internationally, and has recorded extensively for the Avie label (winning a Gramophone Award in 2010). He has been Guest Director/Soloist with many ensembles, most recently at Oslo Chamber Music Festival. Adrian's performances have been broadcast extensively worldwide; his disc of virtuoso violin sonatas Per Monsieur Pisendel 2 released in 2014 attracted rave reviews and featured on the soundtrack of hit American TV series The Originals. His interpretation of The Four Seasons was released in 2015 to outstanding critical reception.
Known for his virtuosity and commitment as performer, Adrian also works tirelessly to research and edit new repertoire for La Serenissima. He held an Arts and Humanities Research Council fellowship in 2006 at Southampton University to research the development of the North Italian violin concerto 1690 – 1740, and subsequently a two-year post as Turner Sims Professor. He is curating La Serenissima's first ever residency The Grand Tour at St John's Smith Square, London during the 2016/17 season.
Upcoming Concerts:
Adrian Chandler has no upcoming tour dates. Please check back soon.