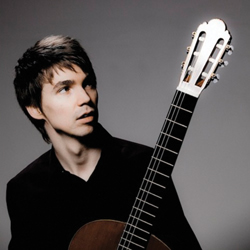 Biography:
Mattias Jacobsson made his recital debut at age seventeen, and has since released a recording and performed in concerto, chamber and recital settings.
His recording Invocación (Avie), explores the Spanish composer Francisco Tárrega's influences, original work and legacy; from the inspiration that Chopin had on Tárrega's musical output, through to his pupils Miguel Llobet and Emilio Pujol.
2014 sees the premieres of two concertos written for Mattias; by Jakub Ciupiński and Ryan Francis, with Metropolis Ensemble and the Pittsburgh New Music Ensemble respectively. This year also includes recitals in Sweden with violinist Ernő Kállai.
In 2013, Mattias recorded Come, Heavy Sleep, 'Slow and quiet', from Benjamin Britten's Nocturnal after John Dowland Op.70, in a collaboration between Albert Augustine and the Metropolitan Museum; he performed the work at Strathmore that year, during the centennial celebrations of Benjamin Britten.
Mattias has performed at the Uppsala International Guitar Festival, recorded and broadcast by Swedish Radio, and with the Helsingborg Symphony Orchestra. He has performed on radio in the United States for NPR and WQXR, and recorded for Spanish Television in Madrid, where he also performed at the prison Soto del Real.
Born near Stockholm, Sweden, Mattias began playing the guitar with Erik Möllerström in the Nacka Municipal School of Music, where he studied between 1994 and 2003. Erik Möllerström is a pupil of Eduardo Sainz de la Maza, and a pioneer in bringing the Tárrega guitar tradition to Sweden. At fifteen, Mattias enrolled at Södra Latins Gymnasium, studying with Bo Hansson between 2000 and 2003; followed by studies with Göran Söllscher and Gunnar Spjuth at the Malmö Academy of Music (2003-2006); and with Sharon Isbin, Mary Anthony Cox in Ear Training and Kendall Durelle Briggs in Harmony at the Juilliard School (2006-2008). He has also received private and Masterclass instruction from Marco Socías, and Masterclass instruction from Oscar Ghiglia and Roland Dyens. Mattias plays strings by Albert Augustine, on a 1971 Ignacio Fleta e hijos guitar.
Upcoming Concerts:
Mattias Jacobsson has no upcoming tour dates. Please check back soon.