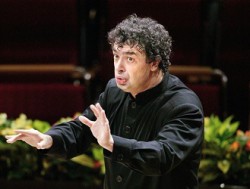 Biography:
Born in Leningrad (now St Petersburg), Semyon Bychkov left Russia after 22 years to make a new beginning in the USA. With extensive experience in Europe and throughout the world, he has been a truly international artist for more than a quarter of a century, yet he firmly believes his Russian upbringing is of crucial importance to the man and artist he has become.
Semyon Bychkov's studies with Ilya Musin enhanced his own innate musicality, leading to his winning the 1973 Rachmaninov Conducting Competition. However, 2 years later he emigrated to the USA. In the USA he become conductor of the Mannes College Orchestra in New York, and he received an invitation to conduct the closing concert at the Spoleto USA Festival.
In addition to his permanent posts in America and Europe, Semyon Bychkov has enjoyed fruitful and fulfilling relationships with many of the world's great orchestras, including the Berlin and Vienna Philharmonics, the Chicago Symphony and the New York Philharmonic and has been Chief Conductor, WDR Symphony Orchestra Cologne from 1997.
Upcoming Concerts:
Semyon Bychkov has no upcoming tour dates. Please check back soon.