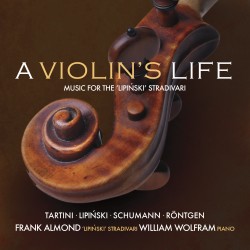 Title:
A Violin's Life: Music for the Lipiński Strad
Artists:
Frank Almond, violin
William Wolfram, piano
Summary:
A Violin's Life traces the provenance and history of the "Lipiński" Strad, one of the most notable of the coveted string maker's instruments which are worth millions today. Crafted in 1715, the violin is named for the Polish virtuoso Karol Lipiński, who played this instrument from c. 1818 until his death in 1861. Lipiński was given the violin by a student of the legendary Giuseppe Tartini, the instrument's first known owner. Known in his lifetime as a violinist, composer, concertmaster, and pedagogue, Lipiński associated with some of the most famous cultural figures of the time, including Liszt, Paganini, and Schumann, who so admired Lipiński that he dedicated his famous piano work "Carnaval" to him. After Lipiński's death the instrument eventually came into the Röntgen family, which included the composer Julius Röntgen. In the 20th century the violin changed hands several times, in 1962 arriving in the possession of the Estonian violinist Evi Liivak, who passed away in 1996.
Frank Almond, leader of the Milwaukee Symphony Orchestra, has played on the "Lipiński" Strad since 2008. Envisioning a project that chronicled the extraordinary history of this violin and its associations, he has made a recording that includes Tartini's most famous work, the "Devil's Trill" Sonata, a virtuoso solo piece by Lipiński, one of Röntgen's unjustly neglected violin sonatas, and the stupendous Sonata in D minor of Robert Schumann, certainly performed during their lifetimes with Schumann at the piano and Lipiński playing this very instrument. William Wolfram is Frank's estimable accompanist.
Tracklist:
Giuseppe TARTINI (1692 – 1770)
Sonata in G minor 'Il trillo del Diavolo' (13:34)
1 I. Larghetto affettuoso (3:30)
2 II. Tempo giusto (3:54)
3 III. Sogni dell autore: Andante – Allegro assai – Trillo del Diavolo – Andante – Allegro assai – Adagio (6:09)
Julius RÖNTGEN (1855 – 1932)
Violin Sonata No. 2 in F sharp, Op. 20 (19:26)
4 I. Allegro non troppo (8:39)
5 II. Con animazione (2:44)
6 III. Agitato (8:03)
Karol LIPIŃSKI (1790 – 1861)
7 Caprice Op. 29, No. 3 (4:20)
Robert SCHUMANN (1810–1856)
Violin Sonata No. 2 in D minor, Op. 121 (30:19)
8 I. Ziemlich langsam – Lebhaft (13:07)
9 II. Sehr lebhaft (4:27)
10 III. Leise, einfach (6:03)
11 IV. Bewegt (6:40)
Total time: 67:37
Recorded 16 – 18 August 2012, Youth Arts Center, Milwaukee, Wisconsin, USA
Producer: Evans Mirageas
Engineer: Ric Probst