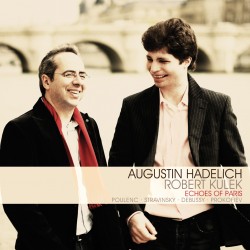 Artists:
Augustin Hadelich, violin
Robert Kulek, piano
Summary:
Augustin Hadelich's sensational debut on Avie Records, Flying Solo (AV 2180), helped catapult him from a highly respected and acclaimed position in the classical music world, into an ever-widening and adoring circle of fans who helped drive the album into the Billboard Classical Chart. Alongside major debuts with the likes of the Cleveland Orchestra and the New York Philharmonic, his UK debut at the Sage Gateshead and return performances with the Los Angeles Philharmonic and Indianapolis Symphony, major feature coverage in The New Yorker, The New York Times, The Los Angeles Times and more has propelled Augustin's media profile to an all-time high.
Echoes of Paris is Augustin's first chamber recording and casts intriguing connections between Frenchmen Debussy and Poulenc and Russians Prokofiev and Stravinsky, who both flocked to Paris and were heavily influenced by the city's electric atmosphere and cultural scene. Augustin comments, "I have chosen the four works on this album primarily because they fit so well together … the 'echoes of Paris' that tie them together include puppetry, percussion, marches and jazz references."
Above all it is Augustin's riveting performance of these striking 20th century works that will captivate and continue to broaden his outstanding reputation.
Tracklist:
Francis POULENC (1899-1963)
Sonata for Violin and Piano, Op. 119 (18:19)
1. Allegro con fuoco (6:15)
2. Intermezzo: Très lent et calme (6:11)
3. Presto tragico (5:53)
Igor STRAVINSKY (1882-1971)
Suite after Themes, Fragments and Pieces by Giambattista Pergolesi (1925) (16:23)
4. Introductione: Allegro moderato (2:15)
5. Serenata: Larghetto (3:09)
6. Tarantella: Vivace (2:26)
7. Gavotta con due variazioni (4:12)
8. Minuetto e Finale: Moderato – Molto vivace (4:21)
Claude DEBUSSY (1862-1918)
Sonata for Violin and Piano in G minor, L140 (13:14)
9. Allegro vivo (4:42)
10. Intermède: Fantasque et léger (4:22)
11. Finale: Très animé (4:10)
Sergei PROKOFIEV (1891-1953)
Sonata No.2 for Violin and Piano in D major, Op. 94b (23:23)
12. Moderato (7:53)
13. Presto (4:48)
14. Andante (3:35)
15. Allegro con brio (7:07)
Total time: 71:40
Recorded June 27 – 30, 2010 in the LeFrak Hall, Queens College, New York, USA
Performed on the 1683 Ex-Gingold Stradivari, on loan from the International Violin Competition of Indianapolis
Produced, engineered and mastered by Da-Hong Seetoo
Reviews:
The Daily Telegraph - Read here...