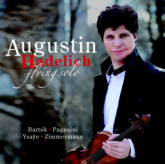 Artists:
Augustin Hadelich, violin
Summary:
Augustin Hadelich, who makes his solo debut recording with Flying Solo, is a brilliant young violinist with a remarkable personal story. A child prodigy, he was educated at the Instituto Mascagni in Livorno, Italy and while still a teenager was poised for a major international career. His rapid rise was, however, interrupted by an horrific accident in which he was burned over much of his body and not expected to survive. After repeated operations and months of rehab, not only has he lived to tell his tale, but has made an artistic comeback of astonishing proportions.
Augustin moved to New York to resume his studies and went on to receive the Artist Diploma from The Juilliard School. In 2006, he was the Gold Medallist at the International Violin Competition of Indianapolis, and this year was awarded the Avery Fisher Career Grant, a $25,000 cash prize that has previously been given to such artists as Yo-Yo Ma, Joshua Bell and Murray Perahia.
Flying Solo is, quite simply, a stunning recording. The focal point is Bartók's Sonata for Solo Violin, a work Augustin first played when he was 12. Having performed it for Yehudi Menuhin and on his Carnegie Hall recital debut, it is now a central part of his repertoire. He contrasts the Bartók with three of his favourite Paganini Caprices, two sonatas by Ysaÿe, and the intense, Bartók-inspired Sonata by Bernd Alois Zimmermann. Throughout, Flying Solo perfectly demonstrates Augustin's dazzling technique and poetic style.
At the age of 24, Augustin has personally endured events no human being should ever have to face. But his remarkable strength of character, sheer determination, joy of life and passion for music meld in this beautiful, soulful and witty personality who also possesses a rare talent. All of these qualities brightly shine through on Flying Solo.
Tracklist:
Béla BARTÓK (1881-1945)
Sonata for Solo Violin, Sz 117 (1944) (25:37)
[1] Tempo di ciaccona (9:13)
[2] Fuga : Risoluto, non troppo vivo (4:34)
[3] Melodia : Adagio (6:26)
[4] Presto (5:24)
Niccolò PAGANINNI (1782-1840)
Caprices (13:05)
[5] Caprice No. 4 in C minor – Maestoso (7:18)
[6] Caprice No. 9 in E major – Allegretto (2:55)
[7] Caprice No. 21 in A major – Amoroso-Presto (2:44)
Eugène YSAŸE (1858-1931)
Sonata No. 3 in D minor for Solo Violin, Op. 27/3 "Ballade" (6:40)
[8] Lento molto sostenuto – Molto moderato quasi lento – Allegro in Tempo giusto e con bravura – Poco meno e grazioso – a Tempo 1o – Tempo poco più vivo e ben marcato – Più mosso – Vivo
Sonata No. 5 in G major for Solo Violin, Op. 27/5
(9:03)
[9] I L'aurore. Lento assai (4:22)
[10] II Danse rustique. Allegro giocoso molto moderato –
III Moderato amabile. Tempo 1. Poco piu mosso (4:41)
Bernd Alois ZIMMERMANN (1918-1970)
Sonata for Solo Violin (1951) (9:12)
[11] I Präludium (2:41)
[12] II Rhapsodie (2:02)
[13] III Toccata (4:29)
Recorded 30 December 2008 and 5 – 6 January 2009 in the LeFrak Hall, Queens College, New York
Produced, engineered and mastered by Da-Hong Seetoo
Reviews:
New Yorker - Read here...