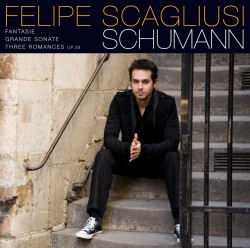 Title:
Grande Sonate, Three Romances, Fantasie
Price:
£7.49 40% off - Limited time only!
Summary:
Brazilian pianist Felipe Scagliusi makes his recording debut on Avie with an all-Schumann program that displays the 31-year-old musician's wide-ranging interpretive prowess from poetry to passion – a perfect mirror to the composer's romantic persona. Mentored by the great Nelson Freire, Felipe first studied in his native São Paolo, then went on to earn a Masters degree from the Manhattan School of Music and further tuition from John O'Conor in Dublin. He made his Carnegie Hall recital debut in 2005, and is now based in Paris.
The three large-scale works on this album were written in the 1830s, a period of great pianistic composing by Schumann. The 3rd Grande Sonate in f minor, Op. 14, originally conceived in 1835-56, appears here in its revised 1853 version. Inspired by a theme by a 16-year-old Clara Wieck, the future Clara Schumann, proponents of the work have included Franz Liszt and, in more recent years, Vladimir Horowitz. The work's first public performance took place in 1862, six years after Schumann's death, and at the piano was none other than Johannes Brahms. Another creation of 1836 was the gorgeous Fantasie in C Major, Op.17, considered by many to be the peak of perfection in the composer's piano oeuvre. The work is dedicated Liszt, who seventeen years later repaid the gesture, dedicating his only sonata to Schumann. The Three Romances, Op. 28, work here as a triple "intermezzo" between the Sonata and Fantasia. They date from 1839, the end of Schumann's most remarkable decade of pianistic output.
Tracklist:
Robert SCHUMANN (1810 – 1856)
Piano Sonata No. 3 in F minor, Op. 14 (29:12)
[1] I Allegro (7:57)
[2] II Scherzo e Trio. Vivacissimo (5:39)
[3] III Quasi variazioni: Andantino de Clara Wieck (7:48)
[4] IV Finale. Prestissimo possible (7:48)
Three Romances, Op. 28 (14:35)
[5] I Sehr markiert (B flat minor) (3:42)
[6] II Einfach (F sharp major) (3:46)
[7] III Sehr markiert – Etwas bewegter (B Major) (7:07)
Fantasie in C major, Op. 17 (30:38)
[8] I Durchaus phantastisch und leidenschaftlich vorzutragen (12:58)
[9] II Mässig. Durchaus energisch (7:50)
[10] III Langsam getragen. Durchweg leise zu halten (9:50)
Recorded May 10 – 17 2009 at the Église évangélique luthérienne de Saint-Marcel, Paris
Producer: Nikolaos Samaltanos
Engineer and editor: Evi Iliades