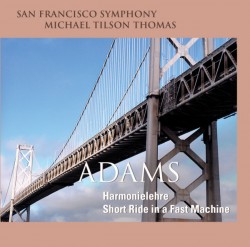 Title:
Harmonielehre, Short Ride in a Fast Machine
Artists:
Michael Tilson Thomas
San Francisco Symphony
Summary:
Michael Tilson Thomas (MTT) and the San Francisco Symphony (SFS) release the latest in their award-winning catalogue of recordings with two works by John Adams, a composer indelibly associated with the orchestra: Harmonielehre, one of the composers earliest orchestral works which was commissioned, premiered and recorded by SFS in 1985; and Short Ride in a Fast Machine, commissioned by MTT prior to his becoming Music Director of SFS in 1995. In keeping with the high-end quality of the MTT-SFS releases on their own SFS Media label, this recording is released in the Hybrid SACD format.
Harmonielehre is one of Adams' early bold statements, blending elements of classical, jazz, rock and minimalism, and American and European influences. MTT, who conducted the work during his first season as SFS Music Director in 1995 and multiple times since, said of the work, "When a new piece is premiered, it can make a stunning impression. But the real story of that piece is what emerges over time. When the SFS first performed Harmonielehre in the mid-80s it was a life changing moment for everybody who heard it… now, decades later, the piece still stands up."
Of Short Ride in a Fast Machine, Adams recalls, "For some reason a connection with Cape Cod came to mind. Years before [the commission] I had been there with a former brother-in-law and he had asked me at about 1 in the morning if I would like to take a ride with him in his Lamborghini. I did and once he started up I wished I hadn't because he drove very, very fast. The idea of a piece that had that combination of excitement and thrill and was just on the edge of anxiety or terror was the motivating force."
This release joins the highly-acclaimed, best-selling MTT-SFS catalogue, which includes their outstanding cycle of Mahler's orchestral works and songs, the Keeping Score series of DVDs and Blu-Rays, and more recent releases of works by Beethoven, Copland and Ives.
Tracklist:
John ADAMS (b. 1947)
Harmonielehre (42:05)
1. I. (17:23)
2. II. The Anfortas Wound (12:55)
3. III. Meister Eckhardt and Quackie (11:47)
4. Short Ride in a Fast Machine (5:04)
Total time: 47:11
Harmonielehre recorded live at Davies Symphony Hall, San Francisco, CA, 8 – 11 December 2010
Short Ride in a Fast Machine recorded live at Davies Symphony Hall, San Francisco, CA, 7 September 2011
Producer: Jack Vad
Reviews:
The Independent - Read here...