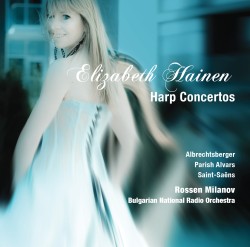 Artists:
Elizabeth Hainen, harp
Rossen Milanov
Bulgarian National Radio Orchestra
Summary:
Elizabeth Hainen, Solo Harpist of the Philadelphia Orchestra, is known internationally as one of the greatest ambassadors for her instrument. She has thrilled audiences throughout the world with programmes showcasing the diversity and virtuosity of her instrument. Her first recording for Avie features three concerti spanning as many centuries. Austrian composer Johann Georg Albrechtsberger was a highly regarded teacher who counted Hummel and Beethoven among his pupils, and whose Harp Concerto of 1773 straddled the Baroque and Classical eras. English harpist and composer Elias Parish Alvars toured Europe widely and settled in Vienna. His G minor Concerto, written in 1842, was a virtuosic vehicle befitting his own temperament – Berlioz called him the Liszt of the harp. Saint-Saëns wrote dozens of concertante works but only one for harp, the 1918 Morceau de concert.
Tracklist:
Elias Parish ALVARS (1808 – 1849)
Harp Concerto in G minor, Op. 81 (30:52)
1 I Allegro moderato (14:08)
2 II Romanza . Andante (5:17)
3 III Rondeau . Allegro agitato (11:27)
Johann Georg ALBRECHTSBERGER (1736 – 1809)
Harp Concerto in C (20:30)
4 I Allegro moderato (7:12)
5 II Adagio (9:25)
6 III Allegro (3:53)
Camille SAINT-SAËNS (1835 – 1921)
7 Morceau de concert for harp and orchestra (15:38)
Total time: 67:09
Recorded June 10 – 12, 2007, Bulgarian National Radio Studio 1
Producer and engineer: Vladimir Hristozov