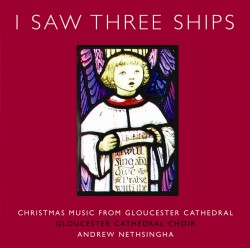 Artists:
Robert Houssart, organ
Andrew Nethsingha, director
Gloucester Cathedral Choir
Summary:
The Gloucester Cathedral Choir follow their imaginative and acclaimed first release on AVIE, In The Beginning (AV 2072) with a spirited holiday album of traditional and contemporary carols, including famous arrangements by Sir David Willcocks and Sir Philip Ledger, as well as the newly commissioned title track from Richard Rodney Bennett.
As the successor to the boys and monks of the Benedictine Abbey, The Gloucester Cathedral Choir boasts a tradition tracing back over 900 years. Henry VIII established their current incarnation, along with the Church of England, in 1539. Andrew Nethsingha, the choir's Music Director at the time of this recording, was a chorister at Exeter Cathedral, where his father, the distinguished Sri Lankan-born English church musician Lucian Nethsingha, was director of music for 26 years. He studied at the Royal College of Music where he was awarded seven prizes and was the youngest cathedral organist in Britain when appointed to Truro Cathedral in 1994. In addition to singing in six services every week, the Gloucester Cathedral Choir is heard annually at the Three Choirs Festival, and regularly at the Cheltenham International Festival and on BBC radio and television broadcasts.
Tracklist:
Jean MOUTON (c.1459 – 1522)
1. Nesciens Mater (5:51)
Sergei RACHMANINOV (1873 – 1943)
2. Ave Maria (3:05)
Paul MANZ (b. 1919)
3. E'en so, Lord Jesus, quickly come (2:39)
Herbert HOWELLS (1892 – 1983)
4. A Spotless Rose (3:15)
Elizabeth MACONCHY (1907- 1994)
5. There is no rose (1:51)
Anton BRUCKNER (1824 – 1896)
6. Virga Jesse (3:48)
John GARDNER (b. 1917)
7. Tomorrow shall be my dancing day (2:24)
HOWELLS
8. Tryste Noel (5:08)
John TAVENER (b. 1944)
9. The Lamb (3:27)
arr. Philip LEDGER (b. 1937)
10. On Christmas night (1:57)
arr. David WILLCOCKS (b. 1919)
11. Away in a manger (2:41)
Richard Rodney BENNETT (b. 1936)
12. I saw three ships (2:34)
William MATHIAS (1934 – 1992)
13. A babe is born (3:21)
arr. Mark BLATCHLY (b. 1960)
14. Silent Night (3:12)
arr. Roxanna PANUFNIK (b. 1968)
15. Sleep, Little Jesus, Sleep (2:54)
arr. Stephen JACKSON (b. 1951)
16. Noel Nouvelet (4:05)
John JOUBERT (b. 1927)
17. Torches (1:36)
Peter WARLOCK (1894 – 1930)
18. Bethlehem Down (3:51)
arr. Charles WOOD (1866 – 1926)
19. Ding dong merrily on high (2:01)
Ralph VAUGHAN WILLIAMS (1872 – 1958)
20. The Blessed Son of God (2:45)
arr. Arthur WARRELL (1900 – 1970)
21. We wish you a merry Christmas (1:55)
Harold DARKE (1888 – 1976)
22. In the bleak midwinter (4:41)
arr. WILLCOCKS
23. O come all ye faithful (3:49)
arr. WILLCOCKS
24. Deck the hall (1:30)
Total time: 76:03
Recorded 19, 20, 24 January and 2 February 2007
Producer and balance engineer: Colin Rae
Co-Producers: Robert Houssart and Christopher Gray
Reviews: