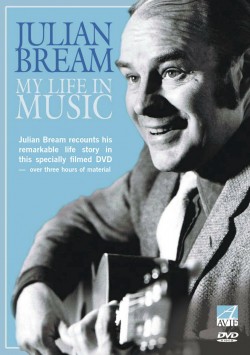 Title:
Julian Bream: My Life in Music
Price:
£19.99 (DVD - PAL format)
Summary:
Julian Bream, considered by many as the greatest classic guitarist of the 20th century, tells the remarkable story of his life in music. Over three hours of material, illustrated with over one hour of complete musical performances, includes contributions from John Williams, Peter Pears, Igor Stravinsky, William Walton, George Malcolm, Richard Rodney Bennett and Ali Akbar Khan. Julian's influence has resulted in a repertoire rich in contributions from Britten, Walton, Henze, Takemitsu, Tippett, Rawsthorne, Lennox Berkeley and countless others. He enthusiastically communicates his musical passions which are celebrated in this generously documented DVD. Highlights include Julian's coming out of retirement for a performance of Britten's Nocturnal, written for the guitarist, and an emotional return to the composer's home in Aldeburgh, and an exclusive BBC Radio 3 recording of Richard Rodney Bennett's Sonata for Solo Guitar.
Tracklist:
Nocturnal (2:38)
Hardy's England (1:05)
Heigh Ho Holiday (1:10)
I was born in Battersea (1:27)
My musical father (1:48)
Django and Eddie Lang (3:28)
My first Spanish guitar and meeting Segovia (5:02)
'BMG' and the Philharmonic Society of Guitarists (4:52)
The 'PSG' library (1:08)
A day boy at Royal College of Music (1:10)
Segovia 1947/Castelnuovo-Tedesco (2:43)
Saraband for Dead Lovers (1:07)
Royal College of Music – no fee! (2:43)
BBC radio and television (5:22)
Julian discovers Dowland (2:43)
Wigmore debut/Bach suites (6:48)
National Service (3:50)
Aldeburgh – meeting Britten and Pears (5:11)
George Malcolm (3:21)
Improvising as a resource (2:49)
The Julian Bream Consort (1962) (4:42)
Meeting Ali Akbar Khan (3:56)
Stravinsky – the quest for repertoire (5:00)
'A life in the country'/cricket – a passion (5:15)
Recording at Wardour Castle (2:38)
The Renaissance and Baroque guitars (5:08)
What is essentially Spanish? (5:09)
New music for the guitar (6:05)
Aldeburgh and the writing of 'Nocturnal' (5:04)
De Falla 'Homenaje' (4:15)
Working with John Williams (3:36)
'Come Heavy Sleep' – 'Passacaglia' (8:32)
Director's Commentary
Alternative Camera Angles
Julian recorded new interpretations of Britten's 'Nocturnal' and de Falla's 'Homenaje' especially for this DVD.
Bonus Features
Archive Music Clips
Dionisio Aguado – Rondo in A minor Op. 2 (6:10)
Heitor Villa-Lobos – Study No. 11 (7:10)
Thomas Morley – 'Galliard to the Sacred End Pavan' – Julian Bream Consort (1987) (2:13)
William Walton – Bagatelle No. 5 (2:27)
Guitarist's Relish ('bonus chapters')
The 'Nocturnal' manuscripts (6:03)
'1984' and bouncing back (4:17)
My first recital and the Maccaferri guitar (1:55)
Sneaking my guitar into the Royal College of Music (4:45)
Julian's nylons! (2:35)
RCM tutor: "Fernando Sor! … .never heard of him" (1:41)
Yuri Leschenko (1:47)
Dr. Perott's techniques (2:35)
'Ithaca' (Constantine P. Cavafy, 1863 – 1933) – Julian's favourite poem read by Jill Balcon (5:10)
'The Makers Of…' – directed by Brendan McCormack (10:40)
Bibliography (text only)
Discography (text only) – compiled by Judy Caine and Graham Wade
Research Notes (text only)
Guitar Timeline – a look at some guitars from the renaissance to the 20th Century
Rare Stills Photo Montage – Tárrega's Mazurka in G (2:49)
Richard Rodney Bennett – Sonata for Solo Guitar (23:39)
Commercially released for the first time by arrangement with BBC Music – recorded in the chapel at Wardour Castle for BBC Radio 3 – 29 June 1986 – Producer Gareth Walters
Directed and presented by Paul Balmer
Produced by Judy Caine
Reviews:
MusicWeb - Read here...