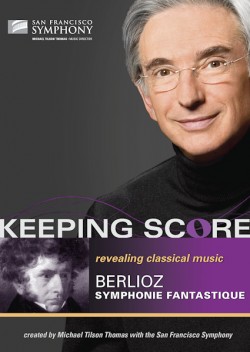 Title:
Keeping Score: Revealing Classical Music: Berlioz Symphonie Fantastique DVD
Artists:
Michael Tilson Thomas
San Francisco Symphony
Summary:
Following the success of the enlightening first series of the PBS television series Keeping Score, MTT and SFS returned with three further programmes that combine one-hour documentaries with live concert performances. This new programme explores the music and stories behind Hector Berlioz's symphonic love letter Symphonie fantastique. The other new releases in this series are Charles Ives's sonic portrait of New England in his Holidays Symphony; and Dmitri Shostakovich's Symphony No. 5, a work that may well have saved his life. "The second season of Keeping Score takes the series to another level," says MTT. "The cinematic qualities and visual storytelling in these programmes give us even more meaningful connections to the music of Berlioz, Ives, and Shostakovich, three of my favourite composers. Coupled with an interactive companion web site, www.keepingscore.org, these new shows give people a truly unique way to experience and enjoy the music."
Each of the three DVDs in Keeping Score Series 2 features a documentary episode – with MTT guiding us through the composers' perspectives and influences – coupled with a live concert performance of each work. The programmes are designed to engage and entertain viewers of all levels of musical background. With outstanding production values, they are released on DVD and Blu-Ray HD formats, making SFS the first orchestra to distribute its product on Blu-Ray disc.