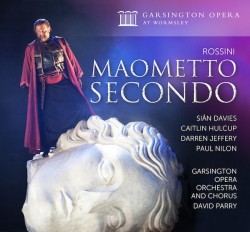 Artists:
Garsington Opera Orchestra and Chorus
Paul Nilon, tenor
Siân Davies, soprano
Darren Jeffery, bass-baritone
Caitlin Hulcup, mezzo soprano
Christopher Diffey, tenor
Richard Dowling, tenor
David Parry, conductor
Price:
£29.99 (3 CDs, premium packaging)
Summary:
Garsington Opera, celebrating its 25th anniversary season in June-July 2014, releases its first commercially available recording, the rare Rossini opera Maometto secondo. Recorded live at Garsington Opera's universally acclaimed 2013 performances – the first-ever fully staged production of Maometto secondo in the UK – the 3-CD set is stylishly packaged in a 100-page hardbound book, complete with synopsis, essay and libretto in Italian with English translations.
Set in the 15th century, Rossini's hugely ambitious undertaking depicts the Turkish Sultan Maometto's siege of the Venetian outpost of Negroponte and his ultimate defeat. The superb international cast is led by the suitably menacing bass-baritone Darren Jeffery in the title role, with American soprano Siân Davies in her European debut as his anguished daughter Anna, Australian mezzo Caitlin Hulcup as the general Calbo, and tenor Paul Nilon as the Venetian Governor. The assured baton of David Parry conducting the Garsington Opera Orchestra and Chorus highlights the brilliant and dramatic score.
This outstanding release mirrors Garsington Opera's exceptional artistic standards presented in the spectacular, award-winning Pavilion, set in the extraordinarily beautiful Buckinghamshire countryside.
Tracklist:
Gioachino Rossini (1792-1868) Maometto secondo
Dramma in two acts
Libretto by Cesare della Valle
Compact Disc 1 (60.44)
Compact Disc 2  (53:28)
Compact Disc 3  (54:11)
Recorded live at Garsington Opera at Wormsley, June and July 2013
Recording Producer: Michael Haas
Recording Engineers: Jonathan Stokes, Neil Hutchinson, & Christopher Roberts, Classic Sound Ltd