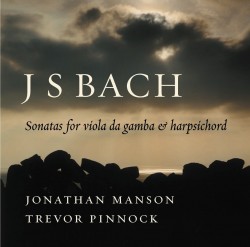 Title:
Sonatas for Viola da Gamba
Artists:
Jonathan Manson, viola da gamba
Trevor Pinnock, harpsichord
Summary:
Trevor Pinnock is one of the most distinguished musicians of our time, an artist whose groundbreaking approach to baroque music has resulted in some of the best-selling recordings of the 20th century. Jonathan Manson is one of the most celebrated period instrument practioners of the new generation, a member of the award-winning viol quartet Phantasm and principle cellist of the Amsterdam Baroque Orchestra. Put these two musicians together to perform the music of J.S. Bach, and the results are simply spellbinding.
Tracklist:
J S BACH (1685 – 1750)
Sonatas for viola da gamba and harpsichord
Sonata in G major, BWV 1027
1. Adagio (3:47)
2. Allegro ma non tanto (3:31)
3. Andante (2:42)
4. Allegro moderato (3:07)
Sonata in D major, BWV 1028
5. Adagio (1:51)
6. Allegro (3:39)
7. Andante (4:08)
8. Allegro (3:59)
Sonata in g minor, BWV 1029
9. Vivace (5:15)
10. Adagio (5:36)
11. Allegro (3:43)
Sonata in g minor, BWV 1030b
12. [Andante] (8:27)
13. Siciliano (3:48)
14. Presto (5:40)
Total time: 59:19
Recorded 11 – 15 September 2005 at CREAR, Argyll, Scotland
Produced, Engineered and Edited by Michele Gaggia