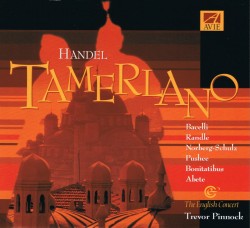 Artists:
Trevor Pinnock, The English Concert, Soloists
Summary:
Trevor Pinnock is recognised as a leading personality in the direction of period-instrument performance. He formed The English Concert in 1973 and has since set new standards in the field of period performance with his lively and stylish interpretations. This recording of Tamerlano, the first in many years, is based on the critically acclaimed Jonathan Miller production which was presented in 2001 at the Halle Handel Festival, the Théâtre des Champs Élysées in Paris, and at Sadler's Wells Theatre as part of the City of London Festival. The performance was broadcast worldwide by the BBC.
Sorry, this release is no longer to available from this website, but you may order a copy "on demand" from Arkiv Music: http://www.arkivmusic.com/classical/album.jsp?album_id=53254
Tracklist:
George Frideric HANDEL (1685 – 1759)
Tamerlano
Opera in three acts (complete)
CD1 – Act 1 (60:30)
CD2 – Act 2 (57:35)
CD3 – Act 3 (63:15)
Monica Bacelli, contralto (Tamerlano)
Tom Randle, tenor (Bajazet)
Elizabeth Norberg-Schulz, soprano (Asteria)
Graham Pushee, alto (Andronico)
Ann Bonitatibus, mezzo-soprano (Irene)
Antonio Abete, bass (Leone)
Total time: 181:20
Recorded 27 – 30 June 2001, live at Sadler's Wells, London
A BBC Radio 3 production in association with The English Concert
Recording Producer: Edward Blakeman
Recording Engineer: Paul Waton
Reviews:
MusicWeb - Read here...