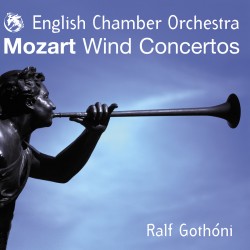 Title:
Wind Concertos, Sinfonia Concertante
Artists:
Julie Price, bassoon
Anthony Pike, clarinet
Richard Berry, John Thurgood, horns
John Anderson, oboe
Ralf Gothóni, conductor
English Chamber Orchestra
Price:
£12.49 (2 CDs for the price of 1)
Summary:
The celebrated English Chamber Orchestra releases the first recording under their Principal Conductor, Ralf Gothóni, at the same time casting a spotlight on the artistry of the ensemble's solo wind players. Mozart's masterful concertos find oboist John Anderson, clarinetist Anthony Pike, bassoonist Julie Price and horn player Richard Perry in top form. With John Thurgood stepping in for the delightful Sinfonia Concertante, the four players splendidly showcase their style and virtuosity.
Now in their fifth decade, the English Chamber Orchestra has attracted the world's finest musicians over the years, including conductors Benjamin Britten and Sir Colin Davis, violinists Nigel Kennedy and Maxim Vengerov, percussionist Evelyn Glennie and many more. Mozart figures prominently in their distinguished discography, including three complete cycles of the Piano Concertos (with Barenboim, Perahia and Uchida) and the complete Symphonies with Jeffrey Tate.
Tracklist:
Wolfgang Amadeus MOZART (1756 – 1791)
CD 1
1 – 3. Clarinet Concerto in A, K622 (29:19)
4 – 6. Sinfonia Concertante in E flat, K297b (30:05)
Total time CD 1: 59:39
CD 2
1 – 3. Oboe Concerto in C, K314/285d (20:11)
4 – 6. Bassoon Concerto in B flat, K191/186e (18:00)
7 – 9. Horn Concerto No. 4 in E flat, K495 (14:57)
Total time CD 2: 53:27
Recorded February 2002, Gateway Studios, Kingston upon Thames (K622), and May 2000, St Paul's Church, London
Produced and Engineered by Chris Craker
Reviews:
MusicWeb - Read here...