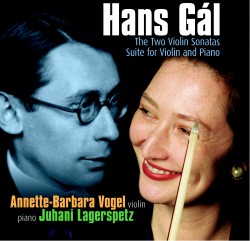 Title:
Works for Violin and Piano
Artists:
Annette-Barbara Vogel, violin
Juhani Lagerspetz, piano
Summary:
Avie spurred the renaissance of Hans Gál's music with the first-ever release of his complete works for solo piano (AV 2064). The 3-CD set, performed by Leeds Competition winner Leon McCawley, garnered a Gramophone Editor's Choice, and brought Gál's effortlessly pleasing music to a broader public. Born near Vienna, the son of a Jewish doctor, Gál was a "continental Briton" who emigrated from Germany at the outbreak of WWII, to Edinburgh where he settled and remained until his death in 1987. During an era that saw the rise and dominance of 12-tone composition, stylistically Gál remained steadfastly true to himself – melodic and accessible.
The bookends of this album are two Sonatas. The B-flat minor, Op. 17 is – in the words of the composer's grandson, Simon Fox-Gál, who also produced the recording – "one of Gál's most outwardly-expressive chamber works". The Sonata in D, published posthumously, was written in 1933; its serenity and optimism belie the turmoil of Gal's life at the time, the Nazi regime having ousted him from his post in Mainz and refusing him work in Vienna. Sandwiched in between is the world-premiere recording of the considerably lighter Suite in G Major, which had its origins in Gal's Viennese period 1936-37, but was modified to its eventual form and premiered in Edinburgh in 1942.
German violinist Annette-Barbara Vogel has become one of Gál's most ardent proponents. She says, "Early on, I was struck by how genuine and pure Gál's music was … when I think of the man's musical language: nostalgic, elegant, innocent, generous, melodic, assertive, rhythmically driven, emotionally rich … never trivial or superficial."
Tracklist:
Hans GÁL (1890-1987)
Sonata in B flat minor for violin and piano, Op. 17 (1920) (25:24)
1. I Patetico molto moderato (9:44)
2. II Quasi allegretto (6:20 )
3. III Adagio molto espressivo (9:20)
Suite in G major for violin and piano, Op. 56 (1942) (12:28)
4. I Preambulo (1:40)
5. II Capriccio (2:28)
6. III Aria (4:11)
7. IV Rondo (4:09)
Sonata in D for violin and piano, posth. (1933) (22:51)
8. I Allegretto quasi andante (9:26)
9. II Scherzo: Vivace (5:32)
10. III Largo con espressione – Allegro poco sostenuto, ma con fuoco (7:53)
Recorded at St.George's Bristol, England, 20 – 22 April 2009
Produced, engineered and edited by Simon Fox-Gál