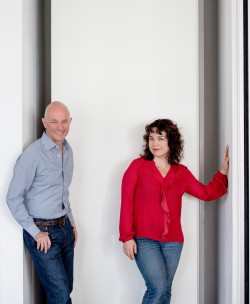 Biography:
One of the most highly-acclaimed piano duos performing today, Charles Owen and Katya Apekisheva are passionate advocates for the wide range of four hands and two piano repertoire. In parallel with their extensive solo careers, they have been performing together around the world and across the UK since 2001. Their close collaboration stems from a shared teacher, the inspirational Irina Zaritskaya, with whom they both studied at the Royal College of Music. Their friendship dates from 1987 during a visit of students from the Gnessin School in Moscow to the Yehudi Menuhin School in Surrey.
Charles & Katya have appeared in concerts together at many of the UK's major festivals – Cheltenham, Leicester, Ryedale, Music in Country Churches, Oxford Chamber Music and Machynlleth. Their BBC Radio3 broadcasts include the Brahms Haydn Variations from St George's Bristol and Fauré for the BBC1 Andrew Marr Show.
Internationally they have performed at the Moscow Conservatoire, the Elverum Festival, Norway and in Mexico City playing the solo parts in the Mozart and Poulenc Double concertos with the UNAM Orchestra conducted by Jan Latham-Koenig.
The duo released a first recording for Quartz in 2016, featuring Stravinsky's two piano ballets, the Rite of Spring and Petrushka, with a dedication to the memory of their teacher. Their second disc came out in January 2018 on Avie featuring music by Rachmaninov, recorded at Kings Place. Together, Charles and Katya are the Artistic Directors and founders of the London Piano Festival, which is held annually at Kings Place.