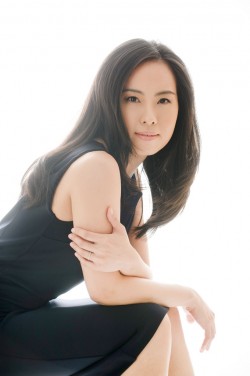 Biography:
A musician with diverse qualities, Evelyn is a Taiwan born artist with a culture background of both the east and the west. She made her London debut in 2004 in the Park Lane Group Series at the South Bank Centre. The success and exciting reviews followed with numerous collaborations with international artists including Douglas Boyd, David Cohen, Paul Dunmall, Brian Irvine Ensemble, Cho-Liang Lin, Roman Mints, Feng Ning, Alexander Sitkovestky, Maxim Rysanov, Jian Wang, Robert Ziegler to name a few. Launched at London's Wigmore Hall,  Her debut Avie recording with violist Maxim Rysanov received many awards and was picked as editor's choice by Gramophone, BBC Music and Muzik Magazine.
Evelyn's passion lies in chamber and contemporary music. She is actively involved in promoting new music and works closely with composers, namely Ed Bennet, Diana Burrell, John Casken, Elena Firsova, Brian Irvine, Elena Langer, Simon Mawhinny, Fumiko Myachi, Dobrinka Tabakova and many others. Some of the works were especially dedicated to her. Her debut solo album 'Poets from the East' released by Avie Records in 2009 included works by Leonid Desyatnikov, Ma Shui-Long and Dobrinka Tabakova. The same year, a recital album with clarinetist Cristo Barrios released by RALS Records premiered works by 6 Canarian composers. Her other recordings include 'Mahakali', a limited edition improvisation album with saxophonist Paul Dunmall on Duns Records and several improvisation recordings on FMR Records. In 2010 she premiered Tabakova's ' The Quest' Piano Concerto with the City Chamber Orchestra of Hong Kong. Evelyn was also invited to appear at the HK Arts Festival and Hong Kong New Music Ensemble Series. In 2012 and 2013 she performed at the Hong Kong International Chamber Music Festival. In 2014 she founded Trio Morisot.
Recommended by her piano teacher Mary Kuok Chiu Tse, Evelyn moved to London at the age of 13 and began to explore her long musical journey in the west. During her time at the Purcell School of Music, she gave regular concerts in Europe and the UK under the supervision of Valéria Szervánsky; Graham Fitch and Andrej Esterházy. She was invited to perform at the Buckingham Palace at the age of 17. Later Evelyn joined the Royal College of Music studying under professors Irina Zaritskaya and Andrew Ball supported by the Russell Gandler Award and St. Martyn's scholarship.
Evelyn currently resides in Hong Kong. She is a Steinway Artist.