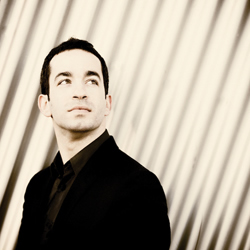 Biography:
'The young, Israeli born pianist Inon Barnatan is a true poet of the keyboard: refined, searching, unfailingly communicative… This is musicianship of the highest calibre.' Evening Standard, London
Pianist Inon Barnatan has rapidly gained international recognition for engaging and communicative performances that pair insightful interpretation with impeccable technique. Since moving to the US in 2006, Mr. Barnatan has made his orchestral debuts with the Cleveland Orchestra and the Houston, Philadelphia, and San Francisco Symphony Orchestras, and has performed in New York at Carnegie Hall, the 92nd Street Y, the Metropolitan Museum and Alice Tully Hall. In 2009 he was awarded a prestigious Avery Fisher Career Grant, an honour reflecting the strong impression he has made on the American music scene in such a short period of time.
Passionate about contemporary music, Inon Barnatan regularly commissions and performs music by living composers, including works by Thomas Adès, George Benjamin, George Crumb, Avner Dorman, Kaija Saariaho and Judith Weir among others.
Born in Tel Aviv in 1979, Inon Barnatan started playing the piano at the age of three after his parents discovered he had perfect pitch, and he made his orchestral debut at eleven. His studies connect him to some of the 20th century's most illustrious pianists and teachers: he studied with Professor Victor Derevianko, who himself studied with the Russian master Heinrich Neuhaus, and in 1997 he moved to London to study at the Royal Academy of Music with Maria Curcio – a student of the legendary Artur Schnabel – and with Christopher Elton. Leon Fleisher has also been an influential teacher and mentor and in 2004 he invited Inon Barnatan to study and perform Schubert sonatas as part of a Carnegie Hall workshop, an experience that has had a lasting resonance. In 2006 he moved to New York City, where he currently resides in a converted warehouse in Harlem.
Upcoming Concerts:
Inon Barnatan | piano has no upcoming tour dates. Please check back soon.