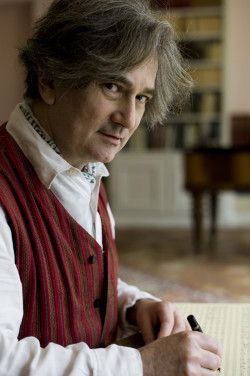 Biography:
After piano, percussion, composition and conducting studies, Olivier Dejours was a member of the Percussions de Strasbourg from 1976 to 1982. They created and played pieces written by more than thirty composers, among them Iannis Xenakis, John Cage, Claude Ballif, Luis de Pablo and Karlheinz Stockhausen.
He then began a career as both conductor and composer with the constant desire to bring together tradition and creation.
As a conductor he has led operas including several notable premieres such as To Be Sung by Pascal Dusapin, Jakob Lenz by Wolfgang Rihm, La Sonate des spectres by Aribert Reimann, La Confession impudique by Bernard Cavanna and Der Kaiser von Atlantis by Viktor Ullmann. He spent a few years developing – first with Le Banquet and then Le Banquet Orchestra – a project of parallels between the music of Mozart and that of contemporary composers.
In 2009, Olivier Dejours and two other musicians – Sylvie Pascal and Jean-Christophe Marq – founded the company 'Les Folies du Temps', open definitively to the music of all times. With that company Olivier Dejours produced new versions of Dido and Aeneas by Henry Purcell, Orlando furioso by Antonio Vivaldi, Féerie d'une nuit d'été after Shakespeare and Purcell and Livietta e Tracollo by Giovanni Battista Pergolesi. He also revisited the music of Johann Sebastian Bach, namely the Mass in B Minor and Saint John Passion, with further programmes of cantatas and the Saint Matthew Passion scheduled for 2020/21. With 'Les Folies du Temps' he also directed the recording of his own work Onomata for voice and instrumental ensemble, commissioned by Radio France.
He has also composed numerous works for the stage, notably for Matthias Langhoff, Michel Deutsch, Jean Dautremay and Gilberte Tsaï, among others. In particular, he has questioned the relationship between music and language, between speaking and singing: as in his La Conversation des ombres, Accents de fêtes and Souvenirs de guerre-mélodrame based on texts by Jean Thibaudeau; his operas, namely Souvenirs envolés and Le Pont des ombres; his melodrama Le Chant du cavalier bleu for narrator and piano based on a text by Elisabeth de Fontenay; and his Les Sept paroles for period string quartet based on a text by Jean-Luc Nancy, and Un Conte d'hiver, premiered by the Thymos quartet at the Kennedy Center (Washington DC) and the Philharmonie de Paris in March 2019.
His next creation, commissioned by the Zellig ensemble, is titled La Vieille, vieille rengaine du temps, an homage to the poet and philosopher Benjamin Fondane.