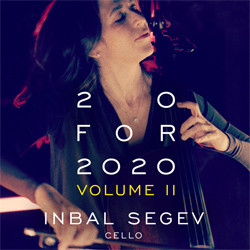 Summary:
Cellist Inbal Segev's inspirational commissioning project, 20 for 2020, continues apace with the second of four digital EPs featuring five of the 20 composers she commissioned in response to the extraordinary combination of events the world experienced 2020. A gesture of support to her fellow musicians and solace for audiences, 20 for 2020 features an immensely varied palette of strong and distinctive compositional voices spanning a range of ages, genders and cultures, and reflects by turns the darkness of the pandemic, the BLM movement, isolation and contemplation. Collectively the works celebrate a stunning array of music for the soulful sound of the cello in the 21st century.
Inbal previously commissioned a large-scale concerto from Avner Dorman, who scales down to an intimate pairing of cello and the folk-like accordion in Elegy for the Victims of Indifference, a lament for lives lost that is expressive, pensive, and lyrical, and conjures nostalgia for the two musicians' native Israel.
The accordion's relative, the bandoneón, features alongside electronics and cello in Ruta Panorámica ("Scenic Route") by Puerto-Rican composer and multi-instrumentalist Angélica Negrón. Her work is an exhilarating musical journey, reminiscent of more carefree times.
American composer-pianist Vijay Iyer, one of today's most distinguished jazz musicians, is more accustomed to spontaneous improvisation than putting pen to paper. But he obliged Inbal with The Window for cello and piano, a work he describes as a "mini suite" that alternates between feeling adrift and imagining reclaimed promise for the future.
"The Pleasure at Being the Cause", a phrase coined by German psychologist Karl Groos, inspired American composer Christopher Cerrone whose minimalist work plays various special techniques of Inbal's cello (the cause) against his responsive piano (the effect).
In American composer Viet Cuong's Room to Move for cello octet, Inbal overdubs all eight parts, sharing them equally between her two cellos – a 1673 Ruggieri and a 1957 Becker. The work's title evokes the solitude and enforced distances of the past year. The music's contrasting colours and hues echo around themselves, as if in a large empty room.
Tracklist:
VIET CUONG (b.1990)
1. Room to move for cello octet 04:14
octet overdubbed: parts 1, 3, 5, 7 cello by Francesco Ruggieri, 1673
parts 2, 4, 6, 8 cello by Carl Becker & Son, 1957
AVNER DORMAN (b.1975)
2. Elegy for the victims of indifference for cello and accordion 06:25
VIJAY IYER (b.1971)
3. The window for cello and piano 09:58
CHRISTOPHER CERRONE (b.1984)
4. The pleasure at being the cause for cello and piano 06:28
ANGÉLICA NEGRÓN (b.1981)
5. Ruta Panorámica for cello, bandoneón and electronics 05:24
Inbal Segev, cello
Julien Labro, accordion (2) · bandoneón (5)
Vijay Iyer, piano (3)
Timo Andres, piano (4)
All tracks recorded by Ryan Streber at Oktaven Audio, Mt Vernon, NY
Edited by Ryan Streber and Charles Mueller
Mixed and mastered by Ryan Streber at Oktaven Audio
Vijay Iyer recorded on 5/1/21
Viet Cuong recorded 5/22/21
Chris Cerrone recorded on 6/1/21
Avner Dorman and Angelica Negron recorded 6/17/21