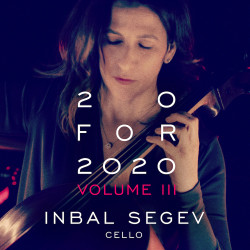 Title:
Inbal Segev: 20 for 2020 Volume III – EP
Artists:
Inbal Segev, cello
Ian Rosenbaum, marimba
Charlotte Mundy, voice
Christopher Tyler Nickel, oboe d'amore, cor anglais, bass oboe
DOWNLOAD AND STREAM
Summary:
20 for 2020, cellist Inbal Segev's ambitious commissioning project, arrives at Volume III in the series, and like the prior two instalments is a digital EP featuring five contemporary composers spanning a wide range of backgrounds, ages, cultures and genres. The Israeli-American's inspired response to the extraordinary events experienced since the pandemic outbreak and social unrest of 2020, was a challenge to 20 composers to create chamber-scale works for an audio-video project that effectively fashions an aural diary of these unalterable times. "Art imitates life," says Inbal, further pronouncing her passion for promoting new works for her instrument: "Art needs to move forward, otherwise it will die." 20 for 2020 is being released as four digital EPs each containing five world-premieres. Volume III includes American composers John Luther Adams, Adolphus Hailstork and Gloria Coates, Polish composer Agata Zubel and Canadian Christopher Tyler Nickel.
John Luther Adams is a lifelong environmental activist. A Weeping of Doves conjures the plaintive cries of this avian species through eight cellos (each part overdubbed by Inbal), in a striking impression of the sadness and beauty of the birds' voices.
Adolphus Hailstork's Hora is a happy work that pays homage to the traditional wedding dance of Inbal's native Israel, fused with Americana styles in a duet for cello and marimba.
Gloria Coates' Berceuse is a lullaby, originally for solo violin, written for the composer's grandson. Coates reveals, "This version for solo cello is written expressly for the sensitive cellist Inbal Segev, who elevates the simple melody to a universal and timeless expression with her innate warmth, musical intelligence, and noble tone colours."
Renowned for her boundary-breaking sonorities, extended techniques and textures, and exuberant musical imagination, Agata Zubel creates a cutting-edge combination for voice, cello and electronics in Unisono III, stretching the possibilities of the instruments in endlessly fascinating ways. Inbal's vocal collaborator is the experimental music expert Charlotte Mundy.
20 for 2020: Volume III is Inbal's fifth release for AVIE and the label's third featuring the music of Christopher Tyler Nickel. A decorated composer for film and television as well as an oboist, in his haunting Fractures of Solitude Chris combines cello octet with oboe d'amore, two English horns and bass oboe, creating vast orchestral sonorities played by just two instrumentalists. 
Tracklist:
JOHN LUTHER ADAMS (b.1953)
1. A Weeping of Doves for 8 cellos 5.25
ADOLPHUS HAILSTORK (b.1941)
2. Hora for cello and marimba 6.10
GLORIA COATES (b.1938)
3. Berceuse for cello solo 2.46
AGATA ZUBEL (b.1978)
4. Unisono III for voice, cello and electronics 6.10
CHRISTOPHER TYLER NICKEL (b.1978)
5. Fractures of Solitude for cello octet and winds 5.50
Inbal Segev, cello
Ian Rosenbaum, marimba (2) Charlotte Mundy, voice (4)
Christopher Tyler Nickel, oboe d'amore, cor anglais, bass oboe (5)
Recorded: 20 (5) & 29 (1, 3) September, 26 October (4) & 5 November (2) 2021, Oktaven Audio, Mount Vernon, New York
Producer, Recording Engineer, Mixing and Mastering: Ryan Streber | Editing: Ryan Streber and Charles Mueller
Publishers: (1) Taiga Press (BMI) (johnlutheradams.net); (2) Copyright Control (adolphushailstork.com); (3) Edition Peters (Gloria Coates @Edition Peters); (4) Copyright Control (zubel.pl); (5) Print music is available from the Canadian Music Centre (christophernickel.com)