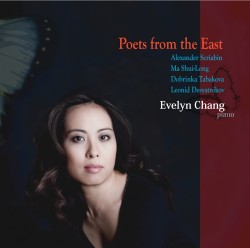 Price:
£7.49 40% off - Limited time only!
Summary:
The solo debut recital recording by Taiwanese pianist Evelyn Cheng is an ingenious blend of Eastern musical poetry and Western colours, drawing attention to the artist's musical and cultural roots. Trained at the Purcell School and Royal College of Music, Evelyn has enjoyed many fruitful collaborations with contemporary composers.
Poets from the East developed out of her love for miniatures and Eastern sounds which as displayed here form a collection of beautiful tone poems. This recording represents an emotional and personal journey for Evelyn, displaying her skills not only as a virtuoso but also as an artist fully understanding the vocabulary of each of these works and exploring her experiences in Western Culture.
Evelyn appears as an impressive collaborator on the solo debut disc by violist Maxim Rysanov (AV 2111), which led Fanfare magazine to declare, "I would be remiss if I didn't mention the thundering contribution of pianist Evelyn Chang … getting a sound worthy of Lizst".
Tracklist:
Alexander SCRIABIN (1872 – 1915)
Twenty-Four Preludes, Op. 11 (31:19)
1. I – C major: Vivace (0:53)
2. II – A minor: Allegretto (1:58)
3. III – G major: Vivo (0:44)
4. IV – E minor: Lento (2:07)
5. V – D major: Andante cantabile (1:32)
6. VI – B minor: Allegro (0:42)
7. VII – A major: Allegro assai (1:04)
8. VIII – F sharp minor: Allegro agitato (1:30)
9. IX – E major: Andantino (1:41)
10. X – C sharp minor: Andante (1:04)
11. XI – B major: Allegro assai (1:32)
12. XII – G sharp minor: Andante (1:20)
13. XIII – G flat major: Lento (1:44)
14. XIV – E flat minor: Presto (0:53)
15. XV – D flat major: Lento (2:14)
16. XVI – B flat minor: Misterioso (1:53)
17. XVII – A flat major: Allegretto (0:48)
18. XVIII – F minor: Allegro agitato (0:58)
19. XIX – E flat major: Affettuoso (1:22)
20. XX – C minor: Appassionato (1:10)
21. XXI – B flat major: Andante (1:15)
22. XXII – G minor: Lento (1:31)
23. XXIII – F major: Vivo (0:38)
24. XXIV – D minor: Presto (0:46)
MA Shui-Long (b. 1939)
A Sketch of the Rainy Harbour (8:10)
25. I – Rain (3:18)
26. II – Harbour Views On Rainy Nights (1:37)
27. III – The Girl Who Collects Seashells (1:53)
28. IV – At The Temple Gate (1:22)
Dobrinka TABAKOVA (b. 1980)
29. Nocturne (2:29)
Modétudes (9:10)
30. I – Dorian (0:52)
31. II – Lydian (1:36)
32. III – Ionian (1:06)
33. IV – Locrian (2:24)
34. V – Phrygian (0:51)
35. VI – Aeolian (1:24)
36. VII – Mixolydian (0:57)
Leonid DESYATNIKOV (b. 1955)
37. From Kashchey's Life (2:14)
38. Jamais … (Elegy) (3:47)
39. Rondeau-chase (1:38)
40. In Honour of Dickens (Waltz) (5:07)
41. Nocturne (from the film Giselle Obsession) (3:42)
42. Credit Titles (from the film Moscow Nights) (3:56)
Total time: 72:19
Recorded 8 – 10 September 2008 at St. George's, Bristol, UK
Produced, Engineered and Edited by Simon Fox-Gál