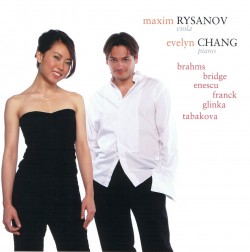 Title:
Works for Viola and Piano
Artists:
Maxim Rysanov, viola
Evelyn Chang, piano
Summary:
Maxim Rysanov is re-defining the art of viola playing for a new generation. This Ukrainian-born, London-based artist is, quite simply, one of the world's finest and most charismatic viola players. "Romantic expression", says Rysanov, is the thread that unites the half-dozen works on his solo debut disc with Taiwanese pianist Evelyn Chang. Spanning the better part of two centuries, all of the works on this recording stem from a particular romantic – or romanticized – perspective.
And if anyone can coax the kaleidoscopic aspects of romance out of the viola it's Maxim Rysanov, whether in Brahms' vivacious FAE Sonata, Enescu's robust Concert Piece, or Glinka's delicate Sonata. The two movements by Frank Bridge exhibit the composer's own skill on the instrument, to which Franck's Sonata lends its romantic ardour perfectly. The disc's "encore" is an enchanting miniature written for Rysanov by Bulgarian-born, London-based Dobrinka Tabakova.
Maxim joins Avie's roster of superb young artists whom the label has developed with great success, including the BBC Music Magazine Award-winning pianist Luiza Borac, and Gramophone Editor's Choice Vivaldi specialist Adrian Chandler.
Tracklist:
Johannes BRAHMS (1833 – 1897)
1. Sonatensatz – F.A.E. Sonata in C minor, Scherzo WoO 2 (arr. Rysanov) (5:20)
Mikhail GLINKA (1804 – 1857)
Viola Sonata in D minor (15:10)
2. Allegro (9:42)
3. Adagio (5:28)
George ENESCU (1881 – 1955)
4. Concert Piece (9:01)
Frank BRIDGE (1879 – 1941)
5. Pensiero (4:26)
6. Allegro Appassionato (2:45)
César FRANCK (1822 – 1890)
Violin Sonata in A major (viola part arr. Rysanov) (27:06)
7. Allegretto ben moderato (5:56)
8. Allegro (8:07)
9. Recitativo – Fantasia (7:02)
10. Allegretto poco mosso (6:01)
Dobrinka TABAKOVA (b. 1980)
11. Whispered Lullaby (4:24)
Total time: 68:30
Recorded 7 – 9 August 2006, at Potton Hall, Suffolk,
Produced and engineered by Simon Fox-Gál
Editing: Sebastian Schubert