New Releases:
Christopher Tyler Nickel, Northwest Sinfonia…

Tanya Tomkins, Eric Zivian, Left Coast Chamber Ensemble…

Anna Clyne, BBC Symphony Orchestra…

Daniel-Ben Pienaar

Quartetto di Cremona, Ori Kam, Eckart Runge…

Anna Clyne, Marin Alsop, BBC Symphony Orchestra…

Henry Dehlinger, Danielle Talamantes…

Christopher Tyler Nickel, Mary Lynch…

Night Music

Inbal Segev, Marin Alsop, Anna Clyne…


Latest News:
1 Mar 2021
LEE DANIEL WOOLLARD JOINS AVIE RECORDS AS MARKETING AND PRODUCT MANAGER
1 March 2021 – Lee Daniel ("LD") Woollard has been appointed Marketing and Product Manager for AVIE Records, effectively immediately. Based in London, he will report to AVIE's Managing Director, Melanne Mueller. LD's contributions to the label will include creative input, developing and implementing marketing campaigns and digital strategy, and general support of the label's operations.
Read on for more information …
Featured Artist: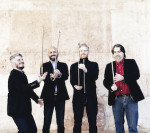 Since its formation, the Quartetto di Cremona has established a reputation as one of the most exciting chamber ensembles on the international stage, regularly invited...
Upcoming Concerts:
Sorry, there are currently no upcoming dates to display. Please check back soon.