Latest News:
4 Apr 2014
AUGUSTIN HADELICH'S APRIL
PREMIERE OF MULTIMEDIA SHOW TANGO SONG AND DANCE AT KENNEDY CENTER
PREMIERE OF DAVID LANG'S mystery sonatas AT CARNEGIE'S ZANKEL HALL
RETURN TO CINCINNATI AND DEBUT WITH DETROIT SYMPHONY ORCHESTRA 
Augustin Hadelich's abundant 2013-14 season has included debuts with the Philadelphia and Oregon Symphony Orchestras, his subscription debuts with the Boston Symphony and Los Angeles Philharmonic, returns to the symphony orchestras of Atlanta, São Paulo and San Diego (including a tour of China), and solo and chamber music performances stretching from western Canada to continental Europe, South America to Great Britain.
In April, the ever-inquisitive Augustin broadens the spectrum of performance possibilities with the premieres of two multimedia presentations: Tango Song and Dance at the Kennedy Center in Washington D.C.; and mystery sonatas by David Lang at Zankel Hall, commissioned for the composer's residency at Carnegie Hall. In addition, Augustin makes a return appearance with the Cincinnati Symphony and makes his debut with the Detroit Symphony Orchestras.
Featured Artist: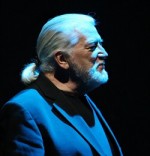 Founder member of Deep Purple, Jon Lord was born in Leicester. He began playing piano aged 6, studying classical music until leaving school at 17...
Upcoming Concerts:
Sorry, there are currently no upcoming dates to display. Please check back soon.