New Releases:
Inbal Segev

Sebastian Bohren, CHAARTS Chamber Artists…

Isabel Bayrakdarian, Ruben Harutyunyan…

Indrė Petrauskaitė

John Brancy & Peter Dugan…

Christopher Tyler Nickel, Northwest Sinfonia…

Tanya Tomkins, Eric Zivian, Left Coast Chamber Ensemble…

Anna Clyne, BBC Symphony Orchestra…

Daniel-Ben Pienaar

Quartetto di Cremona, Ori Kam, Eckart Runge…


Latest News:
15 Apr 2021
AVIE RECORDS PROMOTES ALICIA CONNOLLY TO FINANCE DIRECTOR
SARAH KIRK APPOINTED TO NEW POSITION OF BUSINESS AND CONTRACTS ADMINISTRATOR
15 April 2021 – Alicia Connolly, Finance Manager for AVIE Records since 2017, has been promoted to the position of Finance Director, effective immediately. She will report to AVIE's CEO Melanne Mueller.
Featured Artist: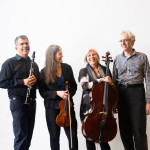 Founded in 1992, Left Coast Chamber Ensemble is a consortium of 13 San Francisco Bay Area musicians illuminating familiar masterpieces while revealing the expressive power...
Upcoming Concerts:
Sorry, there are currently no upcoming dates to display. Please check back soon.