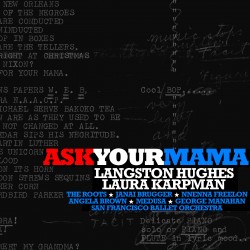 Title:
Laura Karpman – Ask Your Mama **
Artists:
Janai Brugger soprano
Black Thought and Questlove of The Roots
Nnenna Freelon
Angela Brown soprano
Medusa
San Francisco Ballet Orchestra
George Manahan conductor
Price:
£11.25 (2 CDs) | 40% discount (usual price £18.75)
Summary:
Epic poetry set to powerful music, brought to life by a cast of legendary performers: ASK YOUR MAMA is an original musical setting by four-time Emmy Award-winning composer Laura Karpman of the 1961 masterpiece by Langston Hughes, delivered with majesty and magnetism by sopranos Janai Brugger and Angela Brown, hip-hop innovators The Roots and Medusa, jazz vocalist Nnenna Freelon and others, conducted by Grammy-nominated George Manahan.
Ask Your Mama: 12 Moods For Jazz is the most modernist, defiant work by Langston Hughes, an icon of the Harlem Renaissance known as the pre-eminent voice of the African-American experience. It gives voice to the outrages and the joys of African-American life through the eyes of a child and the man he becomes, alternating between the fury of indignation and wild comedy, taking us on an odyssey from Africa to the Americas, high art to low art, from south to north, from cities to suburbs, from opera to jazz – and in Hughes' own words, "from shadows to fire." Hughes conceived his epic 12-part poem as an interdisciplinary creation, including in the margins suggestions for types of music including hot jazz, German lieder, cha-cha, patriotic songs, post-bop, Arabic and more.
Laura Karpman's composition is the first musical setting of Hughes' complete masterpiece. Her score takes its cue from Hughes' boundary-exploding text and musical notations. Integrating 21st century technology, Hughes' words are brought to life with orchestral music, live singers, rap artists, and recorded voices of African-American icons from Louis Armstrong to Leontyne Price to Pigmeat Markham. The result: an exhilarating tapestry of jazz, carnivale, tent revival, film, opera and poetry slam.
ASK YOUR MAMA premiered to a sold-out Carnegie Hall in 2009 and has since played from Harlem's Apollo Theater to the Hollywood Bowl, and has reached millions more through media coverage by National Public Radio, PBS, NBC TV, The New Yorker and the Huffington Post. The release appropriately comes in the wake of Independence Day: as Hughes says in his poem, "your country is your mama."
Tracklist:
Ask Your Mama
Music by Laura Karpman
Poetry by Langston Hughes
CD 1
DEDICATION (4:20)
CULTURAL EXCHANGE (12:53)
RIDE, RED, RIDE (4:16)
SHADES OF PIGMEAT (7:42)
ODE TO DINAH (10:37)
BLUES IN STEREO (5:12)
HORN OF PLENTY (7:39)
GOSPEL CHA-CHA (11:00)
Total time CD 1: 62:15

CD 2
IS IT TRUE? (2:52)
ASK YOUR MAMA (6:51)
BIRD IN ORBIT (12:12)
JAZZTET MUTED – SHOW FARE, PLEASE (17:04)
Total time CD 2: 38:19
Vocal Soloists
Janai Brugger
Blackthought, The Roots
Nnenna Freelon
Angela Brown
Medusa
Taura Stinson
Monet Owens
Tesia Kwarteng
Erin McGlover
Langston Hughes
Featuring
Ella Fitzgerald
Bo Didley
Shirley Temple
Bill Bojangles
Jessye Norman
Marian Anderson
Leontyne Price
Charlie Parker
Louis Armstrong
Pete Seeger
Pigmeat Markham
Instrumental Soloists                                       
Questlove, The Roots drums
Ben Wendel tenor saxophone
David Loeb piano                                                 
M.B. Gordy world percussion
Bart Samolis bass
Firaz Hussein Arabic percussion
Featuring
Jelly Roll Morton
Cab Calloway
Lucky Millinder
Mahalia Jackson
Blind Lemon Jefferson
The San Francisco Ballet Orchestra conducted by George Manahan
Executive producer: Laura Karpman
Produced by Judith Sherman
Co-produced by Leslie Ann Jones, Nora Kroll-Rosenbaum
Mixing by Nora Kroll-Rosenbaum, John Kilgore and Justin Merrill
Mastered by Patricia Sullivan, Bernie Grundman Mastering
Licensing by Deborah Evans, Della Music Clearance
ASK YOUR MAMA was commissioned by Carnegie Hall.