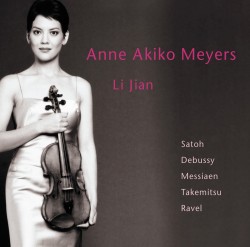 Title:
Satoh, Debussy, Messiaen, Takemitsu, Ravel
Artists:
Anne Akiko Meyers, violin
Li Jian, piano
Summary:
Japanese-American violinist Anne Akiko Meyers convincingly pairs the world of French music with contemporary Japanese works on her Avie debut. Sonatas by the fathers of French impression – Debussy and Ravel – foreshadow Messiaen's Thème et variations, whose chordal structure evokes Takemitsu's Distance de Fée. Anne gives the world premiere recording of Birds in Warped Time II by Japan's most prominent living composer, Somei Satoh, whose work she is closely associated with, having also performed and recorded his Violin Concerto.
Tracklist:
Somei SATOH (b. 1947)
1. Birds in warped time II (10:24)
Claude DEBUSSY (1862 – 1918)
2. – 4. Sonata for violin and piano (12:00)
Olivier MESSIAEN (1908 – 1992)
5. Théme et Variations (7:09)
Toru TAKEMITSU (1930 – 1996)
6. Distance de Fée
Maurice RAVEL (1875 – 1937)
7. – 9. Violin Sonata (16:55)
Total time: 52:54
Recorded 27 and 28 August 2002, at Seiji Ozawa Hall, Tanglewood, Massachusetts
Recording producer: David Frost
Recording Engineer: Tim Martyn
Editing: Tim Martyn
Reviews:
Gramophone - Read here...