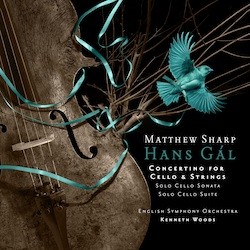 Title:
Concertino for Cello and Strings; Solo Cello Sonata; Solo Cello Suite
Artists:
Matthew Sharp, cello
Kenneth Woods
English Symphony Orchestra
Summary:
Bringing to light another of Hans Gál's gorgeously melodic and finely crafted scores, AVIE presents the world premiere recording of the Austrian émigré's Concertino for Cello and String Orchestra with Matthew Sharp supported by Gál aficionado Kenneth Woods conducting the English Symphony Orchestra. Gál's compositional output was vast, varied and consistent, from his early success in 1920's Germany, through internment during World War II, to his days in Edinburgh where he settled, became a respected academic and lived out his long life. His vivacious Cello Concertino was written in 1965, when he was 75 years old. The two spirited solo cello works were among his last, written at the age of 92.
Tracklist:
Hans Gál (1890 – 1987)
Concertino for Cello and String Orchestra, Op. 87 (24.30)
1. I. Molto moderato – quasi allegro (9.38)
2. II. Adagio (8.03)
3. III. Allegretto ritenuto assai (6.49)
Sonata for Solo Cello, Op. 109a (20.36)
4. I. Andante – allegro comodo (8.33)
5. II. Quasi menuetto lento (6.49)
6. III. Vivace (5.14)
Suite for Solo Cello, Op. 109b (22.26)
7. I. Introduzione e Fughetta: Grave – Allegro molto moderato (5.17)
8. II. Alla Marcia: Allegro moderato (6.42)
9. III. Cavatina: Adagio (4.25)
10. IV. Rondino: Allegro ma non troppo (6.02)
Total time: 68.04
Recorded 27-28 May 2017, Shire Hall, Hereford, UK (tracks 1 – 3); 4 – 5 October 2017, Church of St. Peter, Evercreech, Somerset, UK (tracks 4 – 10)
Produced, edited and engineered by Simon Fox-Gál