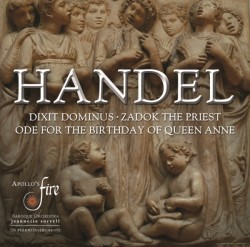 Title:
Dixit Dominus, Ode for the Birthday of Queen Anne, Zadok the Priest
Artists:
Apollo's Fire
Jeannette Sorrell, harpsichord & conductor
Kiera Duffy, soprano
Meg Bragle, alto
Summary:
Apollo's Fire with founder/director Jeannette Sorrell has won widespread critical acclaim with their half-dozen releases on AVIE. Most recently they released two adventurous albums that explored the byways of historically informed performance practice: early Americana on Come to the River (AV 2205) and ancient Celtic Christmas music on Sacrum Mysterium (AV 2269). Returning to their baroque roots, they offer a selection of works by Handel that showcases the Apollo's Fire Chorus. The centrepiece of the album is the grand Dixit Dominus written during the composer's early days in Rome. In a gesture to Queen Elizabeth II's Diamond Jubilee year, Sorrell has chosen two works written for the monarch's forbearers – the Ode for the Birthday of Queen Anne which celebrated that sovereign's birthday in 1713, and Zadok the Priest composed for the coronation of King George II in 1727. As a bonus, Sorrell includes "The Lord Shall Reign" from the epic Israel in Egypt.
Tracklist:
George Frideric HANDEL (1685-1759)
1. Processional: Batteries de timballes (J.D. Philidor, 1657-1708, ed. MB) (2:00)
Matthew Bassett, timpani
God Save the King! (from Zadok the Priest, G.F. Handel)
Eternal Source of Light Divine: Ode for the Birthday of Queen Anne, HWV 74
2. Arioso. Eternal source of light divine
Barry Bauguess, trumpet (3:29)
3. Air & Chorus. The day that gave great Anna birth (2:41)
4. Air. Let all the winged race with joy (2:43)
5. Air. Let flocks and herds their fear forget (2:13)
6. Duet. Kind health descends on downy wings (4:48)
7. Air & Chorus. The day that gave great Anna birth (1:40)
8. Air & Chorus. United nations shall combine (3:11)
Zadok the Priest (Coronation Anthem No. 1), HWV 258
9. Zadok the priest | And all the people rejoic'd (2:35)
10. God save the King! (2:34)
11. Plainchant: Dixit Dominus Domino meo (psalm tone) (1:01)
Scott Mello, tenor & Sandra Simon, soprano
Dixit Dominus, HWV 232
12. Chorus. Dixit Dominus Domino meo (6:14)
13. Aria. Virgam virtutis (2:38)
14. Aria. Tecum principium in die virtutis (3:30)
15. Chorus. Juravit Dominus (2:25)
16. Chorus. Tu es sacerdos (1:29)
17. Chorus. Dominus à dextris tuis (6:34)
Sandra Simon & Kiera Duffy, sopranos; Meg Bragle, alto; Scott Mello, tenor; José Gotera, bass
18. Chorus. De torrente in via (3:44)
19. Chorus. Gloria Patri et filio (6:23)
20. The Lord Shall Reign (from Israel in Egypt, HWV 54) (2:54)
Total time: 64:38
Recorded in live concerts at St. Paul's Church, Cleveland Heights, Ohio, 2-3 February, 2007 and 18-21 October, 2008
Recording Producer & Editor: Erica Brenner
Recording Engineer: Thomas Knab