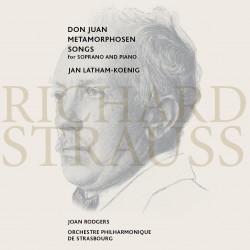 Title:
Don Juan, Metamorphosen, Songs
Artists:
Joan Rodgers, soprano
Jan Latham-Koenig, conductor / piano
Strasbourg Philharmonic Orchestra
Price:
£7.49 40% off - Limited time only!
Summary:
Jan Latham-Koenig was one of Avie's flagship artists. As Music Director of the Strasbourg Philharmonic Orchestra, he recorded the unique coupling of Franck's Symphony in D with extracts from Psyché (AV 0003), and Ibert's rare, early opera Persée et Andromède (AV 0008). These recordings of Strauss' Don Juan and Metamorphosen were Latham-Koenig's valedictory recordings in Strasbourg, and illuminate his brilliant ability to shape phrases and extract orchestral colour – ideal for Strauss' vividly pictorial tone poems. An equally accomplished pianist, Latham-Koenig completes the album by accompanying one of England's leading vocal lights, soprano Joan Rodgers, in a selection of Strauss' early Lieder.
Tracklist:
Richard STRAUSS (1864 – 1949)
1. Don Juan, Op. 20 (17:59)
Four Songs from Op. 10 (1885)
2. Die Zeitlose · The Saffron Crocus, Op.10, No. 7 (1:48)
3. Allerseelen · All Soul's Day, Op.10, No. 8 (3:08)
4. Die Georgine · Georgine, Op.10, No. 4 (3:40)
5. Die Verschwiegenen · Concealed, Op.10, No. 6 (1:03)
6. Begegnung · Meeting o.Op.72 (1:40)
7. Rote Rosen · Red Roses o.Op.76 (2:31)
8. Die erwachte Rose · The Rose Awoken o.Op.66 (3:08)
9. Morgen! · Tomorrow! Op.27, No. 4 (4:16)
10. Metamorphosen (1945) (23:59)
Total Time: 63:12
Don Juan and Metamorphosen recorded 17 and 18 October 2001 in the Salle Erasme du Palais de la Musique et des Congrès de Strasbourg.
Produced, engineered and edited by Stephan Schellmann (Tritonus Musikproduktion GmbH, Stuttgart)
Songs recorded 10 August 2008 at Henry Wood Hall, London, England.
Produced, engineered and edited by Simon Fox-Gál