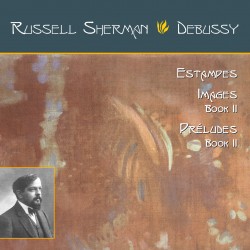 Title:
Estampes, Images Book II, Preludes Book II
Price:
£7.49 40% off - Limited time only!
Summary:
American pianist Russell Sherman is a "thinking virtuoso". He has been hailed for his technique and his great thoughtfulness through pieces that are classics of the repertoire but with a freshness of approach. Debussy perhaps best represents Sherman's insight on music. As he himself points out, "Debussy is undone by the beauty of his sound, an eternal sunset which seems to obliterate the senses as it seduces the ear. It is as endless as the whole-tone scale, its natural lair, and as ingratiating as the satyr's dream. (…) One has to believe in such things, yet it seems hardly worth playing Debussy if one were not transported into this world."
If one believes in this world of extravagant harmonic progressions, exquisite melodies leading to a sense of senseless order, Russell Sherman certainly is the one interpreter whose profile fits every note of this particular and highly ethereal world of Debussy.
Tracklist:
Claude DEBUSSY (1862 – 1918)
Estampes (13:47)
1. Pagodes (5:08)
2. La Soirée dans Grenade (5:06)
3. Jardins sous la Pluie (3:27)
Images, Book II (14:34)
4. Cloches à Travers les Feuilles (4:57)
5. Et la Lune descend sur le Temple qui fut (5:47)
6. Poissons d'Or (3:43)
Preludes , Book II (39:34)
7. Brouillards (3:08)
8. Feuilles Mortes (3:15)
9. La Puerta del Vino (3:02)
10. "Les fées sont d'exquises danseuses" (3:06)
11. Bruyères (3:04)
12. General Lavine – Eccentric (2:31)
13. La Terrasse des Audiences du Clair de Lune (4:34)
14. Ondine (3:27)
15. Hommage à Pickwick Esq. P.P.M.P.C. (2:33)
16. Canopes (3:19)
17. Les Tierces Alternées (2:47)
18. Feux d'Artifice (4:48)
Total time: 68:01
Recorded July 2005 at Jordan Hall, Boston, Massachusetts, USA
Producer: Orpheus Productions
Engineers: James Donahue, Stephanie Winslow
Mastered by: Toby Mountain, Northeastern Digital Recording, Inc.
Piano technician: Anthony McKenna