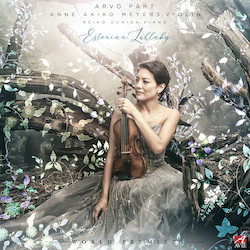 Artists:
Anne Akiko Meyers, violin
Reiko Uchida, piano
Summary:
Anne Akiko Meyers states, "I love lullabies. Seemingly simple and incredibly soothing, they take the listener on a musical journey that embraces the soul. Often just a few minutes in length, they are emotionally deep and satisfyingly complete. The Estonian Lullaby, by Arvo Pärt, is beautiful, possessing directness and tenderness. The sound and spirituality of the music are instantly identifiable as Arvo Pärt, leaving the listener spellbound in rapt attention."
Anne has performed and recorded most of Arvo Pärt's music written for the violin, and has established a close bond with the composer. He requested that she perform at the opening of his new Centre in Laulasmaa, Estonia in 2018. Among the works Anne performed for the occasion was John Corigliano's Lullaby for Natalie, which written for her first-born, sparking Arvo Pärt's inspiration for Estonian Lullaby.
To Anne's delight, the hand-written score of Estonian Lullaby, with a dedication to her, arrived in time for Christmas, 2019.
Arvo Pärt is equally fond of lullabies. He has said, "Lullabies are like little pieces of lost Paradise – a small consolation combined with the feeling of profundity and intimacy. I wrote this lullaby for adults and for the child within every one of us."
This release is a limited edition single which is also widely available as a digital download and stream.
Tracklist:
Arvo Pärt (b. 1935)
Estonian Lullaby (2:44)
Recorded 24 January 2020 at the DiMenna Center for Classical Music, New York City
Producer and engineer: Silas Brown