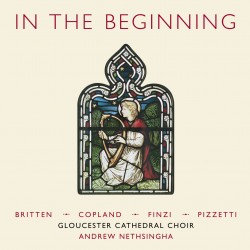 Title:
In The Beginning: Choral Masterpieces of the 1940s
Artists:
Frances Bourne, mezzo-soprano
James Gilchrist, tenor
Andrew Nethsingha, conductor
The Gloucester Cathedral Choir
Price:
£7.49 40% off - Limited time only!
Summary:
The works on In the Beginning were all written in the shadow or the aftermath of World War II, and unite composers of three nationalities who shared a gift of marrying melody to poetry. Finzi's Lo, the Full, Final Sacrifice, written in 1946, was the composer's longest single stretch of music he had so far attempted, and also his first attempt at writing for organ. The Italian composer Ildebrando Pizzetti eschewed the modernist trends of his colleagues; his Tre composizioni corali, from 1942-43, are informed by his immersion in Renaissance polyphony and profound Christianity. Britten's influential Rejoice in the Lamb was written in 1943 shortly after his return to the UK from America, where he met Aaron Copland, whose In the Beginning, a setting of the complete first chapter of the book of Genesis and much of the second from the King James Bible, concludes the disc. As the successor to the boys and monks of the Benedictine Abbey, The Gloucester Cathedral Choir boasts a tradition tracing back over 900 years. Henry VIII established their current incarnation, along with the Church of England, in 1539. Andrew Nethsingha, the choir's Music Director at the time of this recording, was a chorister at Exeter Cathedral, where his father, the distinguished Sri Lankan-born English church musician Lucian Nethsingha, was director of music for 26 years. He studied at the Royal College of Music where he was awarded seven prizes and was the youngest cathedral organist in Britain when appointed to Truro Cathedral in 1994. In addition to singing in six services every week, the Gloucester Cathedral Choir is heard annually at the Three Choirs Festival, and regularly at the Cheltenham International Festival and on BBC radio and television broadcasts.
Tracklist:
Benjamin BRITTEN (1913 – 1976)
1. – 5. Rejoice in the Lamb, Op. 30 (Festival Cantata) (17:53)
Jonathan Hyde (treble), Jeremy Kenyon (alto), James Gilchrist (tenor), Allan Smith (bass)
Ildebrando PIZZETTI (1880 – 1968)
6. – 8. Tre composizioni corale (18:41)
Gerald FINZI (1901 – 1956)
9. Lo, the Full, Final Sacrifice, Op. 26 (15:32)
Jonathan Hyde (treble), James Gilchrist (tenor), James Birchall (bass),
Aaron COPLAND (1900 – 1990)
10. In the Beginning (18:17)
Frances Bourne (mezzo-soprano)
Total time: 70:39
Recorded 15, 16, 28 and 29 April and 29 May 2005, Gloucester Cathedral
Producer & Balance Engineer: Colin Rae
Reviews:
MusicWeb - Read here...