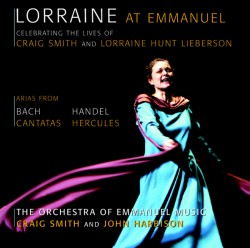 Artists:
Lorraine Hunt Lieberson, mezzo-soprano
Craig Smith, conductor
John Harbison, conductor
Orchestra of Emmanuel Music
Summary:
Few in the operatic world have achieved the iconic status of Lorraine Hunt Lieberson. She possessed a naturally beautiful voice and all the qualities of a truly great singer: technique, perfect intonation, clarity of every word and a marvellous sense of theatre, always at the service of the music. Her beloved friend, conductor Craig Smith, was instrumental in putting Lorraine on the world stage, inviting her for performances of works by Handel and Bach at the Emmanuel Church in Boston, during the early stages of her singing career in the 1980's and 90's. As Lorraine became one of the most sought-after performers in the world her partnership with Emmanuel remained dear to her.
Lorraine at Emmanuel documents her early work with Craig Smith, with previously unreleased material spanning from 1992 to 1999. During the planning of this release, Craig suddenly passed away, thus it stands as a celebration of the lives and artistry of both of these truly great artists.
With works that concentrate on the core repertoire that Lorraine and Craig developed together and for which she was to become famous, here is an opportunity to listen to fresh material from different stages of Lorraine's vocal development (from the low lyric soprano to the full extent of her mezzo-soprano voice). Some have compared Lorraine to the likes of Maria Callas and Mahalia Jackson. But simply, Lorraine and her voice were uniquely hers – amazingly natural and extremely powerful.
Tracklist:
J. S. BACH (1685 – 1750)
1. Kommt ihr angefochtnen Sünder from Cantata BWV 30 (8:46)
George Frideric HANDEL (1685 – 1759)
Hercules, HWV 60
2. O Hercules! Why art thou absent from me? (0:46)
3. The world when day's career is run (4:38)
4. Then I am lost! O dreadful oracle! (0:54)
5. There in myrtle shades reclined (3:26)
6. Ye lying omens, hence! (0:10)
7. Begone, my fears, fly, hence, away (4:31)
8. It must be so! fame speaks aloud my wrongs (0:51)
9. When beauty sorrow's liv'ry wears (4:46)
10. O glorious pattern of heroic deeds! (0:38)
11. Resign thy club and lion's spoils (6:06)
12. Cease, ruler of the day, to rise (3:59)
13. Joys of freedom, joys of pow'r (3:56)
14. Mad Scene: Where shall I fly? Where hide this guilty head? (6:39)
BACH
15. Wie fürchtsam wankten meine Schritte from Cantata BWV 33 (10:43)
Total time: 60:50
Recorded at Emmanuel Church, Boston, MA, USA
Recording Producers: Craig Smith, Malcolm Bruno
Recording Engineers: Thomas Stephenson, James Donahue
Mastering: Thomas Stephenson