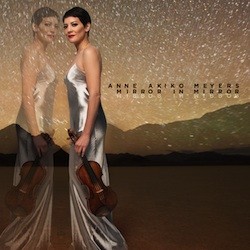 Artists:
Anne Akiko Meyers, violin
Akira Eguchi, piano; Elizabeth Pridgen, keyboard;
Jakub Ciupinski, electronics
Kristjan Järvi, Philharmonia Orchestra
Summary:
Superstar violinist Anne Akiko Meyers is one of today's most in-demand classical performers. A Billboard Top Selling Classical Instrumentalist of the Year, she is beloved by audiences around the world, with a reputation for groundbreaking recital programmes and ground-breaking commissions. Mirror in Mirror marks her 37th studio album and is one of her most personal projects to date.
With the exception of Ravel, Anne collaborated with all of the composers and arrangers on this album. Several of the works were written for her. The music is reflective and spiritual, and weaves a beautiful story. Philip Glass' Metamorphosis II is heard in an arrangement commissioned by Anne. The original work inspired Fratres by Arvo Pärt, whose Spiegel im Speigel (Mirror in Mirror) provides the album's title. John Corigliano's Lullaby for Natalie was written to commemorate the birth of Anne's first daughter. Anne has commissioned numerous works by Jakob Ciupinski who combines acoustic instruments with electronics in Edo Lullaby – a modern setting of a traditional Japanese melody that Anne recalls from her childhood – and Wreck of the Umbria which conjures the composer's dive and discovery of the ship off the coast of Sudan. Ciupinski contributes electronics to Ravel's Tzigane, re-creating the sound of the original version's lutheal. The album is capped by another Anne commission – the premiere recording of Morten Lauridsen's own arrangement for violin and orchestra of his most famous choral composition, O Magnum Mysterium.
Tracklist:
Philip Glass (b. 1937)
1. Metamorphosis II (7.15) * ++
Arvo Pärt (b. 1935)
2. Fratres (10.44) *
3. Spiegel im Spiegel (7:17) *
Maurice Ravel (1875 – 1937)
4. Tzigane (9.46) **
John Corigliano (b. 1938)
5. Lullaby for Natalie (4.51) ++
Jakub Ciupinski (b. 1981)
6. Edo Lullaby (6.21) ++
7. Wreck of the Umbria (10.46) ++
Morten Lauridsen (b. 1943)
8. O Magnum Mysterium (6.43) + ++
Total time : 63.49
* Akira Eguchi, piano
** Elizabeth Pridgen, keyboard ; Jakob Ciupinski, lutheal reproduction
+ Kristjan Järvi, Philharmonia Orchestra
++ world-premiere recordings
Recorded May 3, 2018, SUNY Purchase, NY (1, 2, 3, 5); May 2016, 2016, DiMenna Center for Classical Music (4, 5, 6);
May 9, 2016, London Air Studios (8)
Executive Producer: Anne Akiko Meyers
Producers : David Frost and Silas Brown
Engineering and mastering: Silas Brown