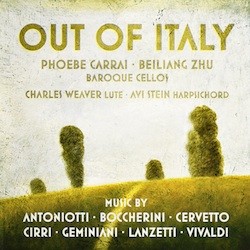 Artists:
Phoebe Carrai, baroque cello
Beiliang Zhu, baroque cello
Avi Stein, harpsichord
Charles Weaver, lute
Price:
£12.49 Pre-order now! Reserve your copy and we'll dispatch when available.
Summary:
The 18th century experienced a mass migration of musicians from Italy – hitherto regarded as "the home of music" – seeking better fortunes in nations to the north. Giacobbe Basevi Cervetto, Giambatista Cirri and Francesco Geminiani went to London, Ridolfo Luigi Boccherini to Madrid. Antonio Vivaldi aimed for Dresden though never arrived, having died en route in Vienna.
These Italian instrumentalist / composers and others are the focus of Out of Italy, an exploration of sonatas and duos for two cellos and continuo by eminent baroque cellist Phoebe Carrai and her protege Beiliang Zhu, some of them quite rare.
Tracklist:
Giorgio Antoniotto (?1680/92 – ?1766/76)
Sonata in G, Op.1, No.8
for cello & basso continuo
1. I. Adagio (2.23)
2. II. Spiritoso (1.37)
3. III. Grave (1.08)
4. IV. Allegro (1.46)
Beiliang Zhu solo cello
Charles Weaver lute · Avi Stein harpsichord · Phoebe Carrai cello
Giacobbe Basevi Cervetto (c.1682 – 1783)
Divertimento in G, Op.4, No.1
for 2 cellos
5. I. Adagio (2.16)
6. II. Andantino (6.00)
7. III. Tempo comodo (5.14)
Phoebe Carrai · Beiliang Zhu cellos
Francesco Geminiani (1687–1762)
Sonata in F, Op.5, No.5
for cello & basso continuo
8. I. Adagio (0.42)
9. II. Allegro moderato (1.31)
10. III. Adagio (3.12)
11. IV. Allegro (2.02)
Antonio Vivaldi (1678–1741)
Sonata No.6 in B flat, RV 46
for cello & basso continuo
12. I. Largo (2.17)
13. II. Allegro (2.51)
14. III. Largo (2.23)
15. IV. Allegro (2.46)
Beiliang Zhu solo cello
Charles Weaver lute · Avi Stein harpsichord · Phoebe Carrai cello
Luigi Boccherini (1743–1805)
Sonata in C, G17
for 2 cellos
16 I. Allegro (4.47)
17. II. Largo (3.12)
18. III. Rondo (4.00)
Beiliang Zhu cello I · Phoebe Carrai cello II
Salvatore Lanzetti (c.1710–c. 1780)
Sonata in A minor, Op.1, No.5
for cello & basso continuo
19. I. Adagio cantabile (3.55)
20. II. Allegro (5.40)
21. III. Menuett – Andante (4.04)
Phoebe Carrai solo cello
Charles Weaver lute · Avi Stein harpsichord · Beiliang Zhu cello
Giovanni Battista Cirri (1724–1808)
Duetto in G, Op.8 No.3
for 2 cellos
22. I. Allegro ma poco (3.27)
23. II. Adagio (2.13)
24. III. Rondo: Allegretto (2.49)
Phoebe Carrai · Beiliang Zhu cellos
Recording: 26–30 October 2017, Battell Chapel, Norfolk, Connecticut
Engineered by James Donahue and Joel Watts
Assistant Engineer: Kaitlyn Maley
Produced and Mastered by Joel Watts