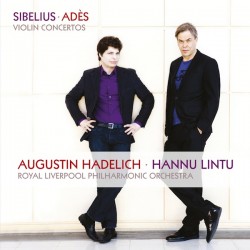 Title:
Sibelius, Adès Violin Concertos
Artists:
Augustin Hadelich, violin
Hannu Lintu
Royal Liverpool Philharmonic Orchestra
Summary:
Violinist Augustin Hadelich is one of the fastest-rising stars of his generation. With three critically acclaimed and Billboard-charting releases on AVIE to his credit, he now delivers what promises to be one of the most important concerto recordings of the year, pairing the Violin Concertos by Jean Sibelius and Thomas Adès, the latter only the second recording of the composer's work. He is superbly supported by Hannu Lintu conducting the Royal Liverpool Philharmonic Orchestra.
Describing his decision to couple Sibelius with Adès, Augustin says, "Programmes I like most are ones where the pieces are connected, but in a subtle way. As we listen to an apparently contrasting programme, we notice similarities—we hear phrase shapes, harmonies, rhythms, and colours in one piece that remind us of something that we heard in the other. The deep, rumbling timpani and low winds in the Sibelius concerto bridge the gap to the Adès, a work which also explores the lowest depths of the sound spectrum, creating chasms over which the violinist performs a tight-rope act. The intensely emotional first and second movements of the Sibelius, and the even more extreme and heart-wrenching second movement of the Adès, create another such connection. Both composers love playing with complex rhythms: Sibelius sticks to polyrhythms, while Adès really pushes the envelope having the solo violin and orchestra play in different meters—or even at different tempi! The dances in the last movement of the Sibelius have a counterpart in the almost tribal-sounding last movement of the Adès. There are many other such comparisons, and, in my view, combining these concertos on one recording makes each one shine in a way that they wouldn't without the other."
Augustin rounds out the recording with Three Humoresques by Sibelius.
Tracklist:
Thomas Adès (b. 1971)
Violin Concerto "Concentric Paths"
1. Rings (3:58)
2. Paths (10:25)
3. Rounds (4:55)
Jean Sibelius (1865 – 1957)
Violin Concerto, Op. 47
4. I Allegro moderato (15:36)
5. Adagio di molto (8:49)
6. Allegro ma non tanto (7:39)
Three Humoresques
7. Humoresque Op. 87, No. 2 in D Major (2:30)
8. Humoresque Op. 89, No. 2 in G minor (3:42)
9.  Humoresque Op. 89, No. 3 in E-Flat Major (3:13)
Recorded June 21 – 24, 2013, The Friary, Liverpool, UK
Producer: Andrew Keener
Engineer: Phil Hobbs
Editor: Matthew Bennett