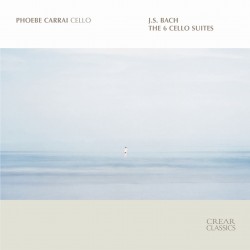 Title:
Six Suites for Solo Cello
Artists:
Phoebe Carrai, baroque cellos
Summary:
This release formed part of the launch of the innovative Crear Classics series on Avie, named for the spectacular studio space located on the western coast of Scotland. Baroque cellist Phoebe Carrai is well known for her recordings with Music Antiqua Köln, and is currently principal cellist of the San Francisco-based Philharmonia Baroque Orchestra. Performing Bach's magnificent works on an anonymous Italian cello from c. 1690 and the 5-string "Marquis de L'air d'oiseau" from 1775, she displays unusual grace, sensitivity and aplomb.
At Crear, sweeping views of the bay overlooking the paps of Jura and Islay fuel the creative fires, inspiring musicians to exceptional artistic heights.
Crear Classics is the brainchild of conductor Harry Bicket, part-time resident of Argyll. In creating Crear Classics Bicket offers unique opportunities for musicians to be heard world-wide through their recording. He has specially selected the artists for Crear Classics, exceptional talent whom he has encountered throughout his extensive international itinerary.
Tracklist:
J S BACH (1685 – 1750)
Six Suites for Solo Cello
CD 1
1. – 6. Suite No. 1, BWV 1007 in G major (16:27)
7. – 12. Suite No. 2, BWV 1008 in D minor (18:29)
13. – 18. Suite No. 3, BWV 1009 in C major (20:22)
CD 2
1. – 6. Suite No. 4, BWV 1010 in E flat major (22:38)
7. – 12. Suite No. 5, BWV 1011 in C minor (23:08)
13. – 18. Suite No. 6, BWV 1012 in D major (26:46)
Total time: 2:08:47
Phoebe Carri performs on period instruments:
Suites 1 .- 5.: c. 1690 Italian – anonymous
Suite 6: 5 string cello 'Marquis de L'air d'oiseau', 1775 – courtesy of McGill University, Montreal, Quebec, Canada
Recorded 26 – 30 2002 and 21 – 24 2003 at CREAR, Argyll, Scotland
Produced and Engineered by John Hadden