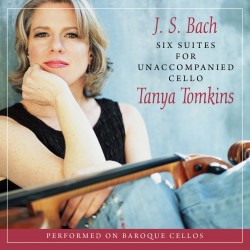 Title:
Six Suites for Unaccompanied Cello
Artists:
Tanya Tomkins, baroque cellos
Summary:
Tanya Tomkins, one of the foremost cellists of her generation, makes an indelible impression scaling the pinnacle of the cello repertoire, J S Bach's Six Suites for Unaccompanied Cello. Familiar to record collectors through her appearance on Avie's release of Kummer's Cello Duets, and as a member of the Benvenue Fortepiano Trio's Mendelssohn and Schumann recordings, Tanya is equally at home in an intimate house concert setting or anchoring the cello section of the Philharmonia Baroque Orchestra with whom she has become a familiar face to home audiences in San Francisco. A student of Anner Bylsma at the Royal Conservatory of Music in the Netherlands, Tanya was the first cellist to win the Boston-based Erwin Brodsky Competition for early music soloists, in 2001. In addition to Philharmonia Baroque, she has been a featured soloist with the Portland Baroque Orchestra, American Bach Soloists, and the Oregon Bach Festival. As a recitalist, Tanya has performed at Lincoln Center and the 92nd Street Y in New York City, and the Concertgebouw in Amsterdam.
Tracklist:
Johann Sebastian BACH (1685 – 1750)
The Six Suites for Unaccompanied Cello
CD 1 (79:01)
Suite No. 3 in C major, BWV 1009 (24:31)
1. Prelude (4:16)
2. Allemande (4:25)
3. Courante (3:29)
4. Sarabande (4:36)
5. Bourrée I – Bourrée II (4:16)
6. Gigue (3:28)
Suite No. 2 in D minor, BWV 1008 (21:42)
7. Prelude (4:07)
8. Allemande (4:01)
9. Courante (2:27)
10. Sarabande (4:44)
11. Menuet I – Menuet II (3:36)
12. Gigue (2:46)
Suite No. 6 in D major, BWV 1012 (32:21)
13. Prelude (5:11)
14. Allemande (6:25)
15. Courante (4:01)
16. Sarabande (7:13)
17. Gavotte I – Gavotte II (4:54)
18. Gigue (4:35)
CD 2 (73:42)
Suite No. 5 in C minor, BWV 1011 (27:14)
1. Prelude (6:43)
2. Allemande (6:35)
3. Courante (2:12)
4. Sarabande (3:56)
5. Gavotte I – Gavotte II (5:38)
6. Gigue (2:09)
Suite No. 4 in E flat major, BWV 1010 (25:46)
7. Prelude (4:03)
8. Allemande (5:32)
9. Courante (3:53)
10. Sarabande (4:43)
11. Bourrée I – Bourrée II (4:34)
12. Gigue (2:59)
Suite No. 1 in G major, BWV 1007 (20:14)
13. Prelude (3:16)
14. Allemande (5:24)
15. Courante (2:50)
16. Sarabande (3:21)
17. Menuet I – Menuet II (3:35)
18. Gigue (1:47)
Recorded 14 – 19 May, Green Music Center, Rohnert Park, CA
Recorded by David v.R. Bowles