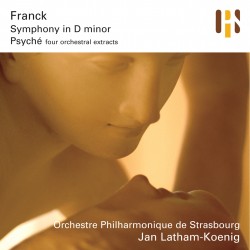 Title:
Symphony in D, Psyché – four orchestral extracts
Artists:
Jan Latham-Koenig
Strasbourg Philharmonic Orchestra
Price:
£7.49 - 40% off - Limited time only!
Summary:
Jan Latham-Koenig is one of the most exciting and engaging conductors working in Europe today. As Music Director of l'Orchestre Philharmonique de Strasbourg he built it into one of Europe's most prestigious and active orchestras, giving over 100 concert performances and, with Opéra du Rhin, numerous operas each season. They scored a major success with their critically acclaimed DVD release of Poulenc's Dialogues des Carmélites, which received the Diapason d'Or de l'Année, and a rosette in the new Penguin Guide to Compact Discs. Strasbourg has grown increasingly important as a European centre of culture and business, as the quality of their orchestra attests, and they have cultivated a captive musical audience.
Tracklist:
César FRANCK (1822 – 1890)
Psyché – four orchestral extracts (25:20)
1. Le Sommeil de Psyché (Lento) (9:04)
2. Psyché enlevée par les zéphirs (Allegro vivo) (2:54)
3. Le jardin d'Éros (Poco animato) (4:08)
4. Psyché et Éros (Allegretto modéré) (8:59)
Symphony in D minor (41:23)
5. Lento – Allegro non troppo (20:04)
6. Allegretto, ma non troppo (10:38)
7. Allegro non troppo (10:32)
Total time: 66:52
Recorded 3 – 4 July 2001, Salle Erasme du Palais de la Musique et des Congrès de Strasbourg
Recording Producer and Editor: Stephan Schellmann
Balance Engineer: Ulrich Schneider