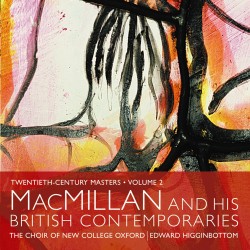 Title:
Twentieth Century Masters, Volume 2: MacMillan and his British Contemporaries
Artists:
Choir of New College Oxford
Edward Higginbottom, director
Price:
£7.49 40% off - Limited time only!
Summary:
Edward Higginbottom and his Choir of New College Oxford present the second of three CDs exploring 20th-century choral music, this one concentrating on many of the contemporary British compositions that have figured in their popular New College chapel programmes and delighted many diverse audiences of students, Fellows and visitors alike. The track list reads like a veritable who's who of contemporary British composers, with two sacred works by James MacMillan leading the way. Julian Anderson, Jonathan Dove, Tarik O'Regan, Robin Holloway and Judith Weir are among the others who contribute to a glorious disc that displays the Choir's distinguishing versatility.
Also available are Poulenc and his French Contemporaries (AV 2084), and Copland and his American Contemporaries (AV 2086).
Tracklist:
Julian ANDERSON (b. 1967)
1. O Sing Unto The Lord (6:59)
James MacMILLAN (b. 1959)
2. Christus Vincit (6:33)
Jonathan DOVE (b. 1959)
3. Ecce Beatam Lucem (5:58)
Ryan WIGGLESWORTH (b. 1979)
4. Libera Nos (3:42)
James MacMILLAN
5. On The Annunciation Of The Blessed Virgin (6:49)
Jonathan DOVE
6. Into Thy Hands (5:31)
Judith WEIR (b. 1954)
7. Love Bade Me Welcome (4:16)
Robin HOLLOWAY (b. 1943)
8. Since I Believe (4:39)
Francis GRIER (b. 1955)
9. A Prayer Of St. Augustine (4:08)
Tarik O'REGAN (b. 1978)
10. Surrexit Christus (2:54)
Peter WISHART (1921 – 1984)
11. Jesu, Dulcis Memoria (5:19)
John JOUBERT (b. 1927)
12. Whitsun Carol, Op. 115b (2:29)
Gabriel JACKSON (b. 1962)
13. Salve Regina (4:51)
Total time: 64:08
Recorded 13 – 15 July in Douai Abbey, Berkshire, England
Engineered and Produced by Adrian Hunter
Reviews:
MusicWeb - Read here...