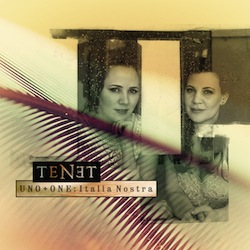 Artists:
TENET
Jolle Greenleaf, soprano
Molly Quinn, soprano
with Robert Mealy and Daniel Lee, violins
Hank Heijink, theorbo
Daniel Swenberg, tiorbino and baroque guitar
Avi Stein, harpsichord
Summary:
AVIE welcomes the pre-eminent New York-based vocal ensemble TENET to the label with UNO + ONE, an imaginative recording that reflects the group's hallmark qualities of innovative programming, virtuosic singing, and a particular command of repertoire from the Renaissance and Baroque eras. At the heart of UNO + ONE are the canzonette, arie and scherzi by Monteverdi, a composer with whom TENET is indelibly associated due to their groundbreaking annual performances of the towering Vespers of 1610 which they inaugurated in the work's 400th anniversary year of 2010. Sopranos Jolle Greenleaf and Molly Quinn, together with their instrumental colleagues – the crème de la crème of the New York early music scene – offer inspired and idiomatic performances of these sublime gems alongside works by contemporary Italian masters Bellerofonte Castaldi, Johannes Kapsberger, Martino Pesenti and Luigi Rossi.
Tracklist:
Claudio Monteverdi (1567 – 1643)
1. Chiome d'oro (3:04)
2. Ardo, e scoprir (3:36)
Bellerofonte Castaldi (1581 – 1649)
3. Un bocconcino di fantasia (2:46)
Monteverdi
4. Io son pur vezzosetta pastorella (3:33)
5. Ohimè ch'io cado (4:29)
Luigi Rossi (c. 1597 – 1653)
6. Occhi belli (3:09)
Dario Castello (c. 1590 – c. 1658)
7. Sonata 4, Book 2 (6:24)
Martino Pesenti (c. 1600 – c. 1648)
8. Ardo ma non ardisco (6:22)
Johannes Hieronymus Kapsberger (c. 1580 – 1651)
9. Toccata arpeggiata (3:13)
Monteverdi
10. Quel sguardo sdegnosetto (2:04)
11. Zefiro torna (6:44)
12. Soave libertate (3:36)
Monteverdi (attributed)
13. Pur ti miro (4:19)
Total Running Time: 53:19
Recorded September 2-3, 2012 at Trinity Church Wall Street, New York, NY
Producer: Eric Dudley
Recording, Editing and Mixing Engineer: Leonard G. Manchess
Assistant Engineer: Steve Goldberger
Mastering Engineer: Tom Durack
Reviews: