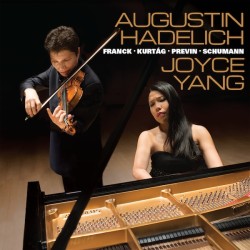 Title:
Works for Violin and Piano by Franck, Kurtág, Previn, Schumann
Artists:
Augustin Hadelich, violin
Joyce Yang, piano
Summary:
Grammy Award-winning violinist Augustin Hadelich is one of the most impressive musicians of his generation. Pianist Joyce Yang, youngest ever medalist of the Van Cliburn Competition, is a consistently electrifying presence on stage. Together these young artists produce a plethora of pyrotechnics and an abundance of musical imagination. This unique recital program pairs two 19th-century repertory staples – Sonatas by Franck and Schumann – with 20th-century fare by Kurtág and Previn, a combination Augustin and Joyce have performed to widespread acclaim in their frequent joint performances.
critical acclaim for Augustin Hadelich and Joyce Yang
"the playing was world class … The musical highlight of the evening was the Schumann Sonata No. 1, the moiling romantic passion perfectly caught." – The Washington Post
"one of the best classical performances of the year. Hadelich and Yang are both exciting young musicians, and their recital was a tour de force." – TheaterJones, Dallas
Tracklist:
André Previn (b.1929)
Tango Song and Dance
1. I. Tango: Passionately (5:20)
2. II. Song: Simply (4:41)
3. III. Dance: Jazz feeling (5:39)
Robert Schumann (1810–1856)
Sonata No.1 in A minor, Op.105
4. I. Mit leidenschaftlichem Ausdruck (7:35)
5. II. Allegretto (3:47)
6. III. Lebhaft (5:30)
György Kurtág (b.1926)
Tre Pezzi, Op.14e
7. Öd und traurig (3:13)
8. Vivo (1:16)
9. Aus der Ferne (2:29)
César Franck (1822–1890)
Sonata in A major
10. I. Allegretto ben moderato (6:01)
11. II. Allegro (8:16)
12. III. Ben moderato: Recitative-Fantasia (7:31)
13. IV. Allegretto poco mosso (6:02)
Total time: 67:27
Recording: 11–14 June 2015, The Performing Arts Center, Purchase College, State University of New York
Producer: Elizabeth Ostrow
Recording engineer: Dirk Sobotka
Mixing and Mastering: Mark Donahue