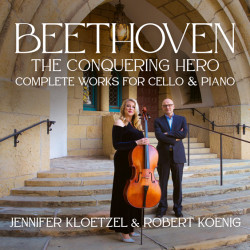 Title:
Beethoven: The Conquering Hero – Complete Works for Cello & Piano
Price:
£29.99 (3CD) [BUY CD direct from AVIE Record Shop]
DOWNLOAD AND STREAM
Summary:
"Kloetzel and Koenigs benchmark Beethoven is a masterclass in musicianship" – BBC Music magazine, Recording of the Month

Jennifer Kloetzel's lifelong journey with Beethoven began early: she was eight years old when her teacher placed the composer's second cello sonata on her music stand, opening the door to an odyssey of intrigue and, ultimately, obsession with the composer's music. Since then, rarely has a day passed without Beethoven being a part of Jennifer's life. She has studied and performed all of the composer's duos and trios. As founding cellist of the Cypress String Quartet, she spent 20 years rehearsing, performing and recording the string quartets. Jennifer now arrives at a career milestone with this recording of Beethoven's Complete Works for Cello and Piano.
Views vary as to what comprises Beethoven's "complete" works for cello and piano. Jennifer's discerning choice includes the five Sonatas for Cello and Piano, three sets of variations – based on arias from Mozart's Die Zauberflöte and Handel's Judas Maccabaeus – and the Horn sonata for which the composer also wrote a cello part.
Jennifer spares no attention to detail across the entire spectrum of this significant recording project. Her performing partner Robert Koenig plays on a pristine Blüthner concert grand piano. The illuminating liner notes are penned by Beethoven scholar William Meredith who boldly states, "if there were only the five cello sonatas of Beethoven left of all his music, these alone would have cemented his place in history." The recording was made in the stellar acoustic of Skywalker Sound. The 3-CD set is lavishly packaged in a deluxe digipack. The title track, "The Conquering Hero" – from the opening set of variations from Handel's Judas Maccabaeus – evokes everything for Jennifer about Beethoven's music, coming from a place of triumph and joy.
Tracklist:
LUDWIG VAN BEETHOVEN (1770–1827)
12 Variations WoO 45 for cello and piano 13.09
on "See, the Conqu'ring Hero Comes" from Handel's Judas Maccabaeus
Sonata for Piano and Cello No.1 in F Op.5 No.1
I. Adagio sostenuto – Allegro 18.37
II. Rondo: Allegro vivace 7.21
Sonata for Piano and Cello No.2 in G minor Op.5 No.2
I. Adagio sostenuto ed espressivo – Allegro molto più tosto presto 20.44
II. Rondo: Allegro 9.23
12 Variations Op.66 for cello and piano 11.14
on "Ein Mädchen oder Weibchen" from Mozart's Die Zauberflöte
Sonata for Piano with Horn or Cello in F Op.17
I. Allegro moderato 8.36
II. Poco adagio 1.33
III. Rondo: Allegro moto 5.02
7 Variations WoO 46 for cello and piano 10.10
on "Bei Männern, welche Liebe fühlen" from Mozart's Die Zauberflöte
Sonata for Piano and Cello No.3 in A Op.69
I. Allegro ma non tanto 13.43
II. Scherzo: Allegro molto 5.54
III. Adagio cantabile – Allegro vivace 9.15
Sonata for Piano and Cello No.4 in C Op.102 No.1
I. Andante – Allegro vivace 7.59
II. Adagio – Tempo d'Andante – Allegro vivace 7.38
Sonata for Piano and Cello No.5 in D Op.102 No.2
I. Allegro con brio 7.26
II. Adagio con molto sentimento d'affetto 9.39
III. Allegro – Allegro fugato 4.48
Jennifer Kloetzel, cello
Robert Koenig, piano
Recorded: 26–28 August 2019 (Sonatas 3 & 4, Handel Variations), 16–18 December 2019 (Sonata No.2, Horn Sonata, 7 Mozart Variations),
8, 9, 11 September 2020 (Sonatas 1 & 5, 12 Mozart Variations), Skywalker Sound, a Lucasfilm Ltd company, Marin County, California
Produced, Recorded and Mixed by Leslie Ann Jones · Assistant Engineer: Dann Thompson Associate Session Producer: Justin Ouellet ·
Mastering: Mark S. Willsher · Music Editing: Robert Gatley · Additional editing: Heidi Trefethen
Cello: Camillo Mandelli (1901) · Piano: Blüthner 9′ Concert Grand