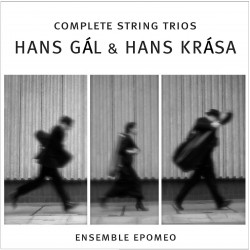 Summary:
"Ensemble Epomeo provide ravishing accounts of both Gal works, fully in sympathy with the idiom… A splendid disc that I cannot get enough of." – Gramophone
"Ensemble Epomeo (named after an Ischian mountain) are thoroughly convincing from beginning to end. Their sense of ensemble is democratic, their attention to the score attentive and respectful, and their tone warm and welcoming. Expressively they are as much at home with the elegant, small-R romantic classicism of Gál as with the more semantically ambiguous colourings of Krása" – MusicWeb International
"listening to both of these brilliantly communicative pieces [is] an uneasy experience, each one a masterly exercise in musical doublespeak. I won't attempt to describe them – buy this disc and experience them for yourself. Eloquent performances in glowing sound" – The Arts Desk

Having released numerous world-premiere recordings of Hans Gál's symphonic, concertante and solo works to critical acclaim, Avie turns to the composer's chamber music, specifically the two works he wrote for string trio. Performed by Ensemble Epomeo, the world-premiere recordings of Gál's Serenade for String Trio, Op. 41 and Trio, Op. 104, are paired with works by Gál's contemporary Hans Krása, Tanec and Passacaglia and Fugue. The Austrian-born Gál and Czech-born Krása shared a Jewish heritage, but whereas Gál escaped Nazi oppression, Krása was interred in Theresienstadt where he was instrumental in organizing the cultural life of the concentration camp, then sent to Auschwitz where he perished in 1944. Tanec and Passacaglia and Fugue were written in the last year of his life.
Founded in 2008 on the slopes of Mount Epomeo at the Festivale di Musica da Camera d'Ischia in Italy, Ensemble Epomeo consists of three virtuosi dedicated to the expansion of the string trio repertoire and exciting, innovative and engaging approaches to performance. Anchored by cellist Kenneth Woods who as conductor has brought a highly-acclaimed series of Hans Gál symphonies to the label, Ensemble Epomeo are quickly becoming a favourite at international music festivals on both sides of the Atlantic. This release marks their commercial recording debut.
Tracklist:
HANS GÁL (1890–1987)
Serenade in D Op. 41 for violin, viola and cello (25:37) *
1. I. Capriccioso: Allegro assai (10:01)
2. II. Cantabile: Adagio (5:35)
3. III. Menuetto: Quasi allegretto (5:24)
4. IV. Alla marcia: Vivace e giocoso (4:37)
Trio in F sharp minor Op. 104 for violin, viola and cello (25:09) *
5. I. Tranquillo con moto (9:02)
6. II. Presto (4:42)
7. III. Tema con variazioni: Andante – Poco più lento – Allegro – Tempo I – Moderato, alla danza – Tempo I – Alla Marcia (11:33)
HANS KRÁSA (1899–1944)
8. Tanec (Dance) for violin, viola and cello: Presto – Etwas ruhiger – Tempo primo (5:53)
Passacaglia and Fuga for violin, viola and cello (9:44)
9. I. Passacaglia: Sehr ruhig (6:51)
10. II. Fuga: Allegro molto (2:53)
Total duration:: 67:08
* world-premiere recordings
Ensemble Epomeo
Caroline Chin, violin
David Yang, viola
Kenneth Woods, cello
Recorded 13–15 December 2011, Millfield School Concert Hall, Somerset, England
Produced, engineered and edited by Simon Fox-Gál