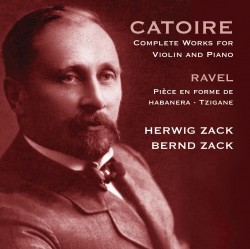 Title:
Complete Works for Violin & Piano
Artists:
Herwig Zack, violin
Bernd Zack, piano
Summary:
Georgy L'vovich Catoire was born in Moscow on 27 April 1861, to parents of French descent. Aside from his musical education Catoire studied mathematics and science at Moscow University and in 1884 graduated with high honours. Catoire's musical oeuvre is not extensive; only about 40 opus numbers are known. His compositions include piano music (miniatures only!), songs, the symphony, Op. 7, one piano concerto, the cantata, Op. 5, and some chamber music. After his death Catoire and his music soon fell into oblivion. Outside of Russia he had never achieved any noticeable recognition, and in Russia his personal and musical profile did not at all correspond with the ideological demands the new masters expected to be met by a Soviet composer. Indeed a few of his compositions, like the Piano Quartet, Op. 31, were reprinted in the USSR during the sixties, and prominent musicians like Alexander Goldenweiser, David Oistrakh, Mstislav Rostropovitch and Leonid Kogan played and recorded some of his works. But still today Catoire ranks among the most unjustly neglected composers. His compositions demand formidable virtuosity, and the brothers Zack pull off his complete works for violin and piano with considerable aplomb.
Catoire was very conscious of his French descent, and the Zack brothers round out this album with a neat homage to Maurice Ravel with his ever-popular Pièce en forme de habanera and Tzigane.
Tracklist:
Georgy L'vovich CATOIRE (1861-1926)
1. Sonata No. 2, Op. 20 "Poème" (20:50)
2. Elegy, Op. 26 (4:13)
Sonata No. 1, Op. 15 (28:43)
3. I – Allegro non tanto, ma appassionato (13:15)
4. II – Barcarolle: Andante (7:17)
5. III – Allegro con spirito (8:05)
Maurice RAVEL (1875-1937)
6. Pièce en forme de habanera (3:10)
7. Tzigane (Rapsodie de concert) (10:31)
Recorded 15 November 2005 (Catoire Op. 20 and Op. 26) and 21-21 December 2006 (Catoire Op. 15 and Ravel) in the Meistersingerhalle Kleiner Saal, Nürnberg, Germany
A co-production with Bayerischer Rundfunk
Executive producer: Susette Clausing
Recording Engineer: Jürgen Rummel
Sound Engineer: Carsten Vollmer
Assistant Engineers: Markus Spatz & Horst Kohl
Piano Tuner and Technician: Theo Kretzschmar