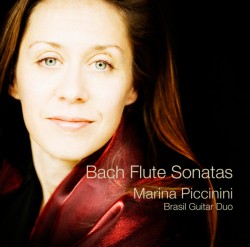 Title:
Bach: Flute Sonatas, Partita in A minor
Artists:
Marina Piccinini, flute
Brasil Guitar Duo
Summary:
One of the world's leading flute virtuosos, Marina Piccinini presents unique transcriptions of Bach's evergreen Flute Sonatas. Eschewing the typical piano or harpsichord accompaniment, Marina records these works as never before with a pair of guitars. And what better partners could Marina have than the Brasil Guitar Duo, winners of the 2006 Concert Artists Guild International Competition (New York), whose "maturity of musicianship and technical virtuosity … is simply outstanding," according to Classical Guitar Magazine. It's a natural combo for the Brazilian-Italian Marina, and this popular repertoire played on popular instruments serves the music exceptionally well. Rounding out the 2-CD set is Marina's exquisite version of the Solo Partita in A minor.
Tracklist:
J. S. BACH (1685 – 1750)
arranged by Joao Luiz * and Douglas Lora †
CD 1
Sonata in G minor, BWV 1020 * (12:01)
[1] Allegro (4:00)
[2] Adagio (3:05)
[3] Allegro (4:56)
Sonata in E-flat major, BWV 1031 † (10:13)
[4] Allegro moderato (3:38)
[5] Siciliana (2:03)
[6] Allegro (4:32)
Sonata in E major, BWV 1035 * (12:03)
[7] Adagio ma non tanto (2:29)
[8] Allegro (2:54)
[9] Siciliano (3:33)
[10] Allegro assai (3:07)
Sonata in B minor, BWV 1030 * (17:12)
[11] Andante (7:24)
[12] Largo e dolce (4:04)
[13] Presto (5:44)
Total time CD 1: 51:30
CD 2
Sonata in C major, BWV 1033 * (8:43)
[1] Andante-Presto (1:42)
[2] Allegro (2:13)
[3] Adagio (1:50)
[4] Menuett 1 and 2 (2:58)
Sonata in A major, BWV, 1032 † (11:54)
[5] Vivace (4:42)
[6] Largo e dolce (2:56)
[7] Allegro (4:16)
Partita in A minor for flute solo, BWV 1013 (11:13)
[8] Allemande (3:43)
[9] Corrente (2:23)
[10] Sarabande (3:12)
[11] Bourée Anglaise (1:55)
Sonata in E minor, BWV 1034 * (13:34)
[12] Adagio ma non troppo (3:05)
[13] Allegro (2:28)
[14] Andante (3:26)
[15] Allegro (4:35)
Total time CD 2: 45:26
Recorded May 11 – 14, 2009, Reiststadel, Neumarkt, Germany
Producer, engineer and editor: Markus Heiland