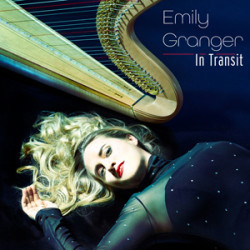 Summary:
"An impressive debut from Granger, and one that shows off the harp's capabilities to excellent effect." – Limelight
"You'd expect a solo harp album to be somewhat transportive, but harpist Emily Granger goes further in this collection of works by American and Australian composers. Yes, it's beautiful, but it also showcases the instrument's versatility and depths of colour and timbre attainable." ★★★★ – BBC Music Magazine 

American-Australian harpist Emily Granger makes her solo debut recording, In Transit, with a collection of contemporary works that reveal the breadth and beauty of harp music from her two countries.
Memories and moods infuse Tristan Coelho's evocative title track as well as the composer's The Old School, recalling an artists' residence in Australia's Blue Mountains. Laura Zaerr's rhythmical River Right Rhumba is inspired by West African drumming, whilst Sally Greenaway's Liena, named after Melbourne-born harpist Liena Lacey, draws upon jazz and Latin dance music. Ross Edwards evokes a fantasia in his hypnotic The Harp and the Moon, whilst Libby Larsen's bold Theme and Deviations is a tease on the traditional musical form. Sally Whitwell's Undiminished is just that both harmonically and in spirit. Emily's virtuosity is on full display in Kate Moore's soaring Spin Bird, inspired by Jonathan Livingston Seagull, and in Nancy Gustavson's Great Day, steeped in colourful glissandi showing off the harp in all its glory. Turning her hand to arranging, Emily has adapted Elena Kats-Chernin's Blue Silence, originally for cello and piano, underscoring the works calming, healing and meditative properties; and Augusta Read Thomas' Eurythmy Etude "Still Life", originally for solo piano, stemming from the Greek meaning for beautiful and harmonious rhythm. Emily closes the album with Deborah Henson-Conant's The Nightingale, one of her earliest musical memories as a young harpist.
Tracklist:
TRISTAN COELHO (b.1983)
1. In Transit 07:01
ROSS EDWARDS (b.1943)
The Harp and the Moon
2. I. Lento e molto languido 04:49
3. II. Allegro grazioso 02:31
LAURA ZAERR (b.1960)
4. River Right Rhumba 05:18
SALLY GREENAWAY (b.1984)
5. Liena 02:32
LIBBY LARSEN (b.1950)
6. Theme and Deviations 05:28
ELENA KATS-CHERNIN (b.1957)
transcr. Granger
7. Blue Silence 08:34
KATE MOORE (b.1979)
8. Spin Bird 03:52
AUGUSTA READ THOMAS (b.1964)
transcr. Granger
9. Eurythmy Etude "Still Life" 03:55
TRISTAN COELHO
10. The Old School 04:12
SALLY WHITWELL (b.1974)
11. Undiminished 05:00
NANCY GUSTAVSON (1920–1996)
12. Great Day 02:29
DEBORAH HENSON-CONANT (b.1953)
13. The Nightingale 04:30
Emily Granger, harp
Recorded at Dodgy Sound, Sydney, Australia, November 2020 & August 2021
Producer: Tristan Coelho | Session Producer: Paul Castles | Recording Engineer: Bob Scott
Emily performs on a Lyon & Healy Style 23
Publishers: self-published (1–3, 5, 10–13); Harp Column Music (4); Libby Larsen Publishing (6)
Boosey & Hawkes (7); Deuss Music (8); G. Schirmer (9)
℗ 2022 The copyright in this sound recording is owned by Emily Granger
© 2022 Emily Granger